Pig Crochet Pattern – Affectionally named "Pork Chop"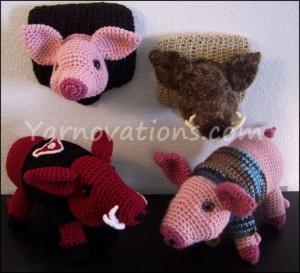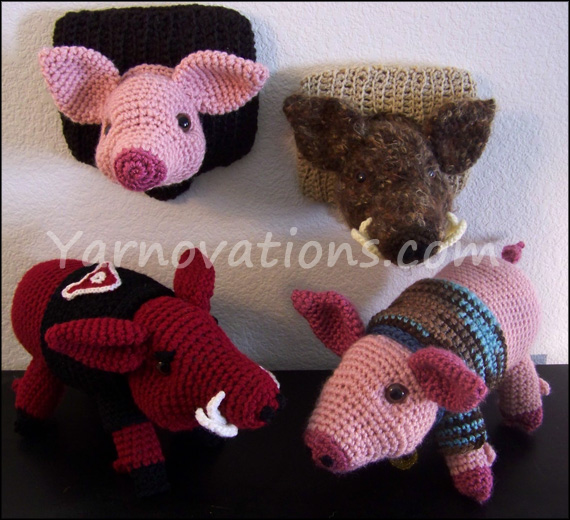 We have affectionately named the pig in our Pig Crochet Pattern, "Pork Chop". He is deliciously fun and easy to crochet! He's super cute when crocheted in a couple shades of pinks. Have you seen the little extra details this crocheted pig includes? There are dew claws on the feet, puffy checks and a curly tail, just to name a few.
For the hunters in our lives, we've modified "Pork Chop" and mounted his head! Yep, this pattern includes instructions on how to make a Mounted Boar's Head! It's a little crazy, but it's so real looking when crocheted in Brown Angel Hair and with the addition of tusks. This would be perfect in a man's office, study or library. Since it's crocheted, it would even be fun in your craft room! Be sure to name him!
This pig crochet pattern includes the following instructions:
"Pork Chop" as the stuffed animal.
The head of "Pork Chop" mounted.
Mounted Boar's Head.
Boar as a stuffed animal.
Pig Crochet Pattern – "Pork Chop" as a Famous Pig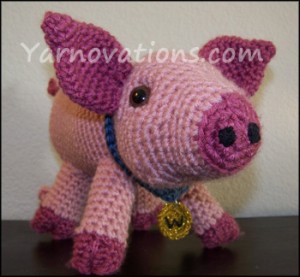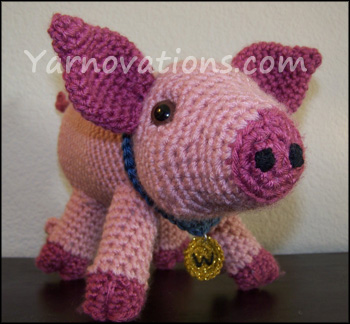 This Pig Crochet Pattern can be modified and used to represent a number of famous pigs. As is, "Pork Chop" is a great farm animal. But with a few tweaks, he can be a book character or famous movie star. Here's a short list of famous pigs:
Maxwell, the Geico Pig – give him a pinwheel and watch him squeal "weeeeee" all the way home.
Napoleon from Animal Farm – have him stand on his hind feet and give him some clothes.
Piglet from Winnie the Pooh – dress him in a striped pink shirt and have him stand on his hind feet.
Porky Pig from Looney Tunes – dress him in a blue shirt and red tie and have him stand on his hind feet.
Tusk, the Arkansas Razorbacks mascot – crochet him in red with a black sweater.
Wilbur from Charlotte's Web – give him an award winning collar.
Pig Crochet Patter – The Details
Like our other patterns, this Pig Crochet Pattern includes lots of photos, detailed written instructions, checkboxes to mark your progress, materials list, gauge info and more.
Skill Level: Easy
"Pork Chop" measures 10″ in length x 5 1/2″ tall x 3 3/4″ wide.

Pig Crochet Pattern – Available in the Store
The Pig Crochet Pattern is available now in the store. Purchase your pattern today and you can be making a pig tonight! Weeeeee….what fun!
FREE accessories and modifications are available in the store as well!