Dynamite – Creating a Bang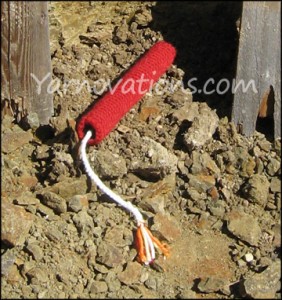 Crochet a stick of dynamite and you're in for a bang! These toy explosives are small enough for your pocket but they pack a big enough punch for the big jobs. Add a bit of yellow and orange string to the end of the wick and these toys are lit!
Caution: once your kids get their hands on one, they're gonna want more!
Dynamite – FREE Crochet Pattern
Dynamite has been around since the late 1880's. It's been used by cowboys, miners and soldiers alike.  That should light up your child's imagination!
The finished dynamite measure 1 1/4 x 8 inches making them quick and easy to crochet. This pattern calls for crochet in the round (you can make them any length you like). Use scraps of yarn you have in your stash – a real money saving solution for the holidays!

Free Patterns Page: Download the pattern from the FREE Crochet Patterns page.
Store: Add the Dynamite Free to your cart in the Store.
Dynamite – Something for the Bigger Jobs
Make your little bang a BIG KAPOW with the Hard Hat Mining Set! The hard hat will help keep you safe on the job and light your way. Strap a bunch of dynamite together and create a big bang with the blasting box (the handle really moves up and down!). Store all your explosives in the wooden dynamite create for later use.
Learn more about the Hard Hat Mining Set or head to the store to get your pattern now.