Crochet Soap Saver Collection – Fun and Diverse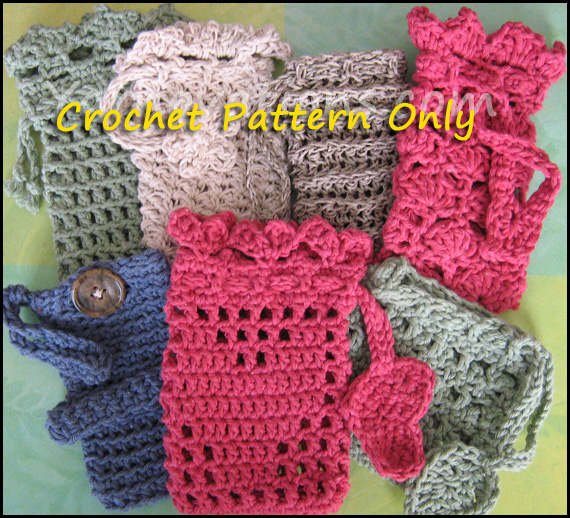 Caution: this crochet soap saver collection is a lot of fun to make. Once you make one, you'll be hooked and find that you can't stop until you've crocheted them all! And each one takes only an hour or two to whip up! These are great last minute gifts. (Oh, and check out the bonus wash mitt below…)
Traditionally, soap savers are used a couple of different ways.
Instead of throwing out your old leftover mini bars of soap, toss them into a soap saver and get every last ounce of clean out of them! The soap saver acts as a wash cloth with a bar of soap wrapped inside.
Save on soap by putting a new bar in the soap saver. You'll use less soap this way. When your bar runs low, just stick in another one!
The pattern includes photos of the soap savers used as a cell phone pouch and iPod cozy. But these are also great for bridal shower gift bags, Wedding Favor Sachets, Mini Draw String Gift Bags, Potpourri bags or Scented Satchets and more.
Crochet Soap Saver Collection – The Details

Why is this crochet soap saver collection so much fun? It could be because each pattern uses a different stitch (shell, moss, filet and more). Or maybe it's the other little details such as unique edging (heart, crown, button top and more) or the diverse types of draw strings (flower, heart, leaf and more).The collection includes both masculine and feminine designs.
Filet with Crown Edge Soap Saver measures 2 3/4″ x 6″. The filet is simple to crochet and the crown edging is quite elegant.
Heartfelt Filet Soap Saver measures 3 1/4″ x 5 1/2″. This pattern is full of love with a filet heart bag, heart edging and heart draw string.
Pretty Shells Soap Saver measures 3″ x 6″. The stitch is gorgeous and is topped with a crown edge and decorative draw string.
Leaf and Vine Soap Saver measures 4 1/4″ x 3 3/4″. It's understated simplicity make the leaf enhanced drawstring quite striking.
Moss Stitch with Flower Soap Saver measures 3 1/4″ x 6″. The beautiful stitch is enhanced with a simple frill top and draw string with a pretty flower.
Button Top Soap Saver measures 3″ x 4 3/4″. It's bold and simple with a button top closure and durable handle for attaching the soap saver onto your hand.
Reversible Ridges Soap Saver measures 3″ x 4 3/4″. Deep ridges are great for a deep clean. Or turn it inside out for a smooth surface for a simple scrub.
BONUS: Mary Jane Wash Mitt measures 4 1/2″ x 8″. Slip your hand under the strap and put your fingers and thumb into the pockets and you're got a liquid soap – soap saver!
Many of these soap savers are crocheted with Red Heart Eco-Cotton blend yarn. One skein will make three or more soap savers. Some sachets were crocheted with Hemp Cord or Twine as seen in the photos.
The pattern calls for crochet in the round. The pattern includes materials list, abbreviations, special stitch instructions, photos, gauge info, check boxes to help mark your progress  and more.
Crochet Soap Saver Collection – In the Store
These crochet sachet soap savers are available now in the store. When you purchase through our website, you'll immediately receive a receipt which includes a link to download the PDF pattern.
Order today and start crocheting right away! Bath time will be a whole lot of fun.