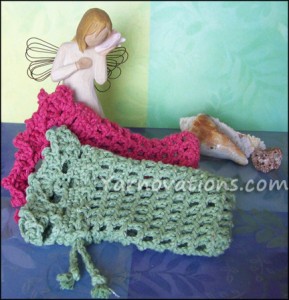 FREE Sachet Bag Crochet  Pattern – Such Adorable Bags
Make your own Sachet Bags with this FREE Crochet Pattern and see what all the fuss is about. Why the new craze for sachet bags? Are they really all that special? Many people use them as soap savers. Do they really save on soap? Seeing is believing. Download the free pattern and see for yourself.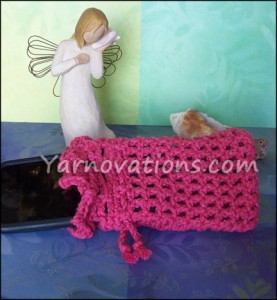 Soap isn't the only thing these draw string bags are good for. They make great gift card holders! You can also use these as pouches for storing electrical devices such as an iPod and cell phones. These mini bags are most notably recognized as potpourri sachets and scented sachets or as wedding favors and bridal shower favors. These make great gift wrapping for smaller gifts like chocolates and jewelry. You'll be so delighted with your sachet, you'll come up with a lot of little uses for it.
FREE Sachet Bag Crochet Pattern – The Details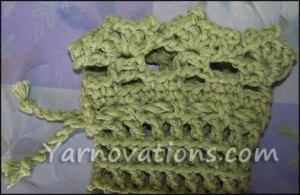 Your sachet bags will vary in size depending on the size hook you use. We used hook E with Red Heart Eco-Cotton yarn and our bags measure 2 3/4 inches x 6 inches.
Skill level: Easy
This bag is crocheted using the filet stitch (dc, ch 1 skip a st). It's topped with a beautiful crown edge and tightens with a cord draw string. It's simple yet elegant.
The pattern includes detailed written instructions (for the bag, crown edge and drawstring). It has lots of photos, materials list, gauge info, check box to mark your progress and more.

Free Patterns Page: Download the pattern from the FREE Crochet Patterns page.
Store: Add the Filet Sachet with Crown Edge Pattern Free to your cart in the Store.
FREE Sachet Bag Crochet Pattern – There's More!
Caution: Sachet bags are addicting to make. We made one sachet and couldn't stop. In our case, one bag led to seven! Here is a small sampling of them.

Blog: See all seven of the bags on our Crochet Soap Saver Collection blog post
Store: Also available in the store at Crochet Sachet Soap Saver Collection.
This set has a nice blend of both feminine and masculine designs. Check out the bonus Mary Jane style Wash Mitt. It's perfect for liquid soap users!