Winner at the Crochet Guild of America 2014 Design Competition
Congrats to Deborah for her winning entry at the CGOA 2014 Design Competition. That's two years in a row! (See her owl bean bag chair winning entry from 2013) I may be a little bias since she's my sister…but I think she totally ROCKS!
3rd Place in the Afghan and Home Decor Category
Title: A Soldier's Christmas
Do you want one of these on your front door this Christmas as much as I do? I (Dana) was blown away with this crocheted Christmas wreath. I really wish you could see it in person it's so rich in color and texture.
There are a lot of fun details that make this so breathtaking. I love the texture that the crocodile stitch leaves add to the base of the wreath. I'm in love with the soldier (don't tell my husband) and all the detailing on his jacket. And I adore the scales on the pine cones. I can hardly wait for Deborah to write up this pattern so I can make one of these for my home!
Special Thanks & Links to Other Winners and Entries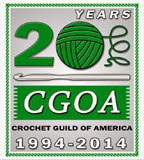 A big thank you once again to Doris Chan for organizing a fabulous design competition. We are super thankful for all the work Doris puts into this annual competition. (And I'm sure she's thanking Deborah for not sending in another bean bag chair like last year!)
And thank you to the judges: Jenny King, Susan Lowman and Karen Manthey. I'm sure it was a challenge to pick just three winners in each category.
It's the 20th anniversary of the Crochet Guild of America and some of the designers incorporated that theme into their designs which was fun to see.
Visit Doris Chan's website for all the winners and entries:
Deborah had two more entries in the competition that didn't place. See if you can spot them in the slide show!