The TURTLE Loom Hexagon Pin Loom
I received the Turtle Loom as a gift from my sister and I will say, first impressions are not always right, in this case, pleasantly so! I've become an avid 4″ square pin loomer (or should I say addict), and I wasn't sure how I'd feel about the hexagon TURTLE pin loom.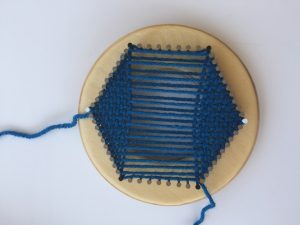 First, I'm used to using a pin loom where the pins have no heads. The TURTLE Loom uses nails with heads. I thought I'd HATE that. Turns out, I don't! Because the first several rows are done using bias weaving, the heads are actually very important! I think I would hate it if it didn't have heads!
Second, I wasn't sure I would like bias weaving. I've woven thousands of squares, but never on the bias. Turns out, I really enjoy it! It feels faster to me. Weave the top strand, and the bottom strand is magically done when you pull the "warp" strand down!
Third, I love the base. I like that the wooden base is round, has a nice thickness, and it's easy to maneuver. I do like to turn it to weave with my dominant hand, it just feels smooth to use. It's pretty too!
Fourth, I really appreciate the different colored nails, especially as I'm learning to weave on it. Two white pins, one at the top and one at the bottom, make it easy to see where to start. The four black pins are a quick visual for seeing where the bias portion of the weave stops and where the plain weave section begins.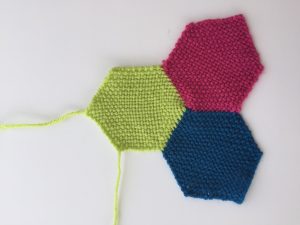 Other impressions, the loom comes with a comb, but I've nearly done away with combing as I pin loom weave. If I want to comb the woven strands, I just use the crochet hook or weaving needle to gently push the strands as needed.
The last bias weave round is a little tricky as it comes right to the pins, but I think there's no getting around this. At times, I also found using the crochet hook to weave a little cumbersome. The hook would sometimes get caught between nails. Mostly I avoided this by holding the hook above the nails while weaving, but sometimes it would still get caught. If the hook was a little narrower all around, it wouldn't be a big deal, but it's not a deal breaker. I think over time, it will become less of an issue for me, though I admit, right now I find it very annoying!
One delightful thing I learned about bias weaving is how easy it is to unweave a few rows! Simply remove the yarn from the last nails used, and the yarn can be pulled out! (It felt a little like crocheting, just rip it out.) Unweaving the plain woven section is not quite as easy.
I did try to do a little texture work in the hexagon. I'm going to go ahead and chalk it up as a FAIL. Though I can see how it is possible to do stranded work, it will take a little planning to do it well. The nice thing about stranded work in the bias portion is the pattern is automatically repeated on the bottom once warp strand is brought down. Once you get to the middle weaving section, you have to establish the pattern for the first half, then repeat it in backward order for the second half, if that makes sense. Here's my attempt! Can you see the texture?
All-in-all, I really enjoyed the TURTLE Loom by Bluebonnet Crafters, LLC.  As a bonus, my 5 year old learned what a hexagon is!