Baby Pilot
A new baby pilot…so sweet and adorable. Little ones like this fly straight into your heart with this hat, scarf and goggle set.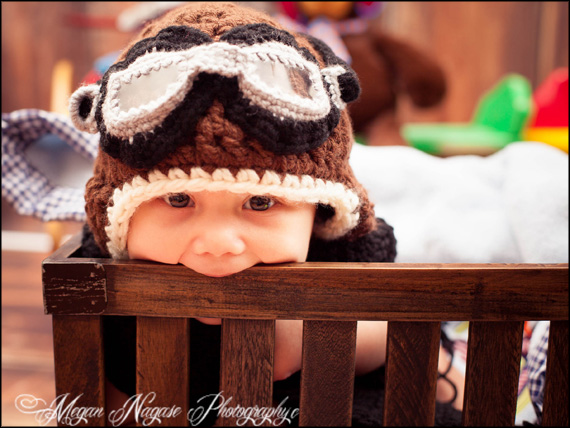 Cami Hickman-Adams crocheted this fun baby pilot set for photographer Megan Nagase. Cami modified the Bomber Hat Set a bit but kept the overall look and feel of the piece. Nice work Cami!
Baby Pilot Set Available For Purchase
Crocheted Set
Cami crochetes finished pieces at Cami's Creative Commodities. Contact her on Facebook for your own baby pilot hat and google set!
Crochet Pattern Only
Buy the Aviator Set pattern in our store and crochet the set yourself. This sent includes 6 hat sizes, 3 adjustable goggles and 3 scarves. The whole family can take to the skies in this set.
Here are more fun photos of this adorable baby pilot.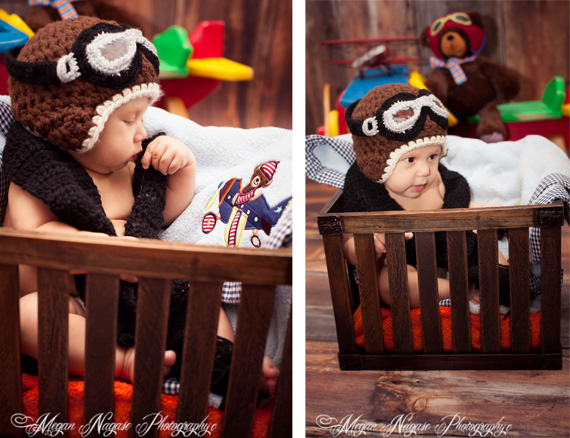 Photography Information
A special thank you to Megan Nagase for sharing these lovely photo. Megan is located in Frisco, Texas and works in the Dalls/Fort Worth area. She specializes in children and boudoir photography. You can learn more about her work at Nagase Photography.