Fun Pumpkin Seed Recipe and Crochet Pattern for a Decorative Jar
Just in time for fall and Thanksgiving, make a decorative cozy for a jar filled with the spicy goodness of this Cajun Pumpkin Seed Recipe! Grab some seeds and your crochet hook because we're getting crafty!
Let's start with the recipe. Pumpkin seeds are known to have great health benefits (good source of zinc). Spicy foods are too (Cayenne Pepper is great as an anti-inflammatory and digestive aid). This is not necessarily a low fat food, but a tasty one for sure.
Let's get the recipe in the oven so we can crochet while it's cookin'.
CAJUN PUMPKIN SEED RECIPE
Ingredients:
1      cup pumpkin seeds (medium size pumpkin)
1      Tablespoon butter (melted)
2      dashes Worcestershire sauce
¼     teaspoon salt
¼     teaspoon garlic powder
¼     teaspoon paprika
1/8  teaspoon ground black pepper
1/8  teaspoon onion powder
1/8  teaspoon cayenne pepper
1/8  teaspoon dried oregano
1/8 teaspoon dried thyme
pinch red pepper flakes
 Directions:
In melted butter, add Worcestershire sauce. In a separate bowl mix all the dry ingredients. Pour the dry ingredients into butter mixture and stir until blended. Add pumpkin seeds and stir until evenly coated. Pour seeds onto baking sheet making them as flat as possible.Scoop pumpkin seeds from pumpkin. (An ice cream scoop works great for this). Rinse pumpkins seeds and pat dry with paper towel. Spread on a baking sheet to finish drying while mixing the other ingredients.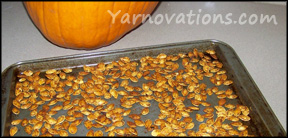 Bake at 300° for 45 to 60 minutes stirring every 15 minutes. Cool completely. Sprinkle with salt. Fill jar or mug.
You will need two cups of seeds (approximately two medium to large size pumpkins) to fill a pint size canning jar. Do not overcrowd the baking pan. For best results, make two pans of seeds when you double this recipe.
Now the Pumpkin Seed Recipe is Done – Let's Make a Cozy!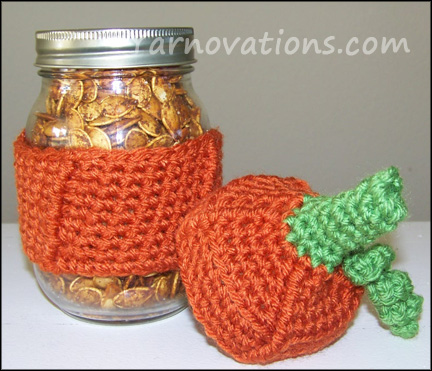 This festive jar cozy is great for decorating your home or office for the season. And it makes for a fun container when serving snacks (like the above pumpkin seeds recipe…just sayin') at Thanksgiving. If you're short on time, fill a pint sized jar with candy corn and jazz it up with this fun and quick jar cozy.
This project is a great stash buster, but we've used Vanna's Choice. We love that it's strong, durable and soft…not to mention that this line has got just the right colors for fall and Thanksgiving! In the picture, we've used three different shades of green…and they all look great!
Supplies:
1 pint size canning jar with lid
Vanna's Choice Yarn: Medium Worsted Weight (4)
TERRACOTTA – remnant
Green of your choice: FERN, OLIVE, or KELLY GREEN – remnant
Crochet Hook: J
LID COVER INSTRUCTIONS
Green
Hook: J
Ch 5, join with a sl st to form a ring.
Rnd 1: Working around the ring not in the stitches, 6 sc. (6)
Rnd 2-3: Sc around. (6)
Rnd 4: *2 sc, sc inc* twice. (8)
Rnd 5: Sc around. (8)
Rnd 6: *3 sc, sc inc* twice. (10)
Rnd 7: *4 sc, sc inc* twice. (12)
Row 8: Ch 16, 2 sc in second ch from hook, 2 sc in each ch stitch. (30)
Sl st into the next st on Rnd 7. Finish off, weave in end.
Attach Orange to the same st as the sl st.
Rnd 9: *2 sc, inc* four times. (16)
Rnd 10: Lift up the Vine and connect the Rnd underneath. *Fphdc, 2 sc, sc inc* around. (20)
Rnd 11: *Fphdc, 3 sc, sc inc* around. (24)
Rnd 12: *Fphdc, 4 sc, sc inc* around. (28)
Rnd 13: *Fphdc, 5 sc, sc inc* around. (32)
Rnd 14: Work in back loops only. *Fphdc, 7 sc* around. (32)
Rnd 15-16: Work in both loops. *Fphdc, 7 sc* around. (32)
Sl st in next st. Finish off, weave in end.
JAR COZY INSTRUCTIONS
Orange
Hook: J
Ch 32, join with a sl st.
Rnd 1: Sc around. (32)
Rnd 2-9: *Fphdc, 7 sc* around. (32)
Sl st into the next st. Finish off, weave in end.
More Cozies in Store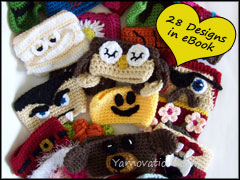 Love this pumpkin cozy? There are more seasonal, holiday and just for fun cozies in the store in our Crochet Cup Cozy eBook. We've created an entire collection with 28 designs one ebook.
Looking for the cup and mug version? They're in the ebook.
Each design in the ebook has instructions to fit Mugs, Cups and Mason Jars. Every design has a delicious recipe or fun craft.
All 3 pumpkins pictured at the beginning of this post are in this ebook! AND the ebook includes 4 new designs – Dracula, Vampire, Mummy and Blue Jeans.

Read more about the set:
Blog: Coffee Cup Cozy Collection
Store: Coffee Cup Cozy Collection