Crochet Cup Cozy Patterns – Something for Everyone
We decided to make a crochet cup cozy or two. But once we got started, we couldn't stop! As you can see, we made animals and holidays and seasons. Not to mention wild and crazy and elegant. There's literally something here for everyone!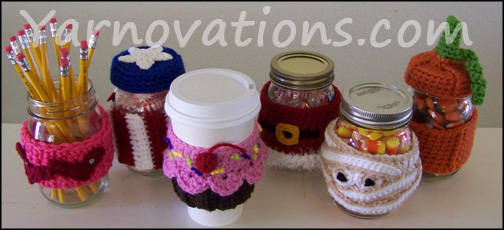 This set includes cozies for cups, mugs, cans, jars and more. The mug cozies fit through or around handled containers. The cup cozy fits nicely on a pint size canning jar making them great gift ideas as wells.
Over 20 crochet cup cozy patterns included!
BONUS: Star Trek cozy included!
Skill Level: Easy (with a few intermediate stitches)
Most projects use medium worsted weight yarn. This is a STASH BUSTER like no other!
Crochet Cup Cozy Patterns – Animals
When you make one animal crochet cup cozy…more are sure to follow. That was true for us, anyway. Let's take a closer look at each: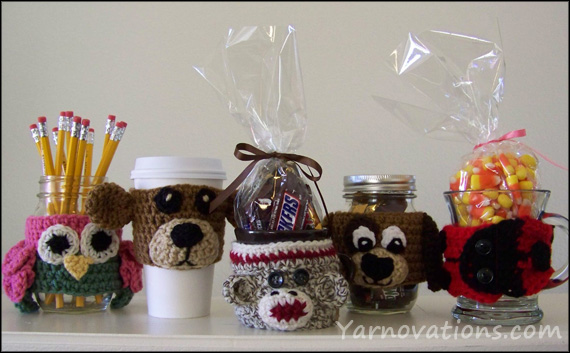 SOCK MONKEY – Mug – Button eyes, 3D mouth and ears
OWL – Cup – Crocodile stitch wings
DOG – Cup – Spot behind eye, 3D nose and ears
BEAR – Cup – 3D nose and ears
LADY BUG – Mug – Button eyes act as clasp
Crochet Cup Cozy Patterns – Holidays
Some holidays are super fun to crochet into a cozy. We'll be decorating for several special occasions with these cozies. Here's what's fun with this set: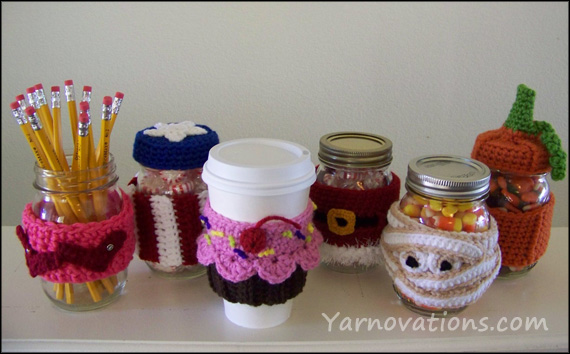 HEARTS – Cup – Create one, two or a whole ring of hearts
PATRIOTIC – Jar – Star adorned lid cozy
CUPCAKE – Cup – Has a cherry on top
PUMPKIN – Jar – Cute vine lid cozy
MUMMY – Cup – It's a wrap
SANTA – Cup – Make with fur cuff or without
Crochet Cup Cozy Patterns –Seasons
It's fun to get into the spirit of the seasons. We've created several seasonal cozies. We've even thrown in football season. Change the color and stitching and you can celebrate basketball or baseball season! Here are a few highlights: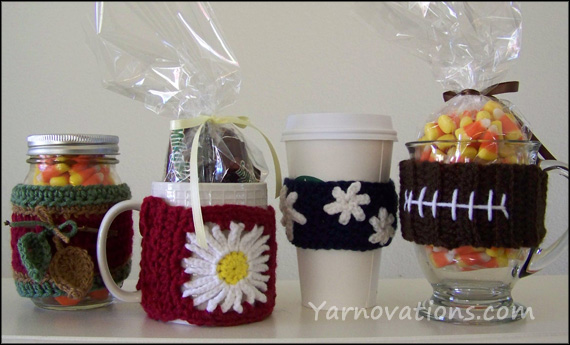 WINTER  – cup – two snowflake sizes
SPRING AND SUMMER – mug – Flower looks adorable in various colors
FALL LEAVES – cut – Cute 3D leaves
FOOTBALL – mug – Make with or without white striping
Crochet Cup Cozy Patterns –Wild and Crazy
We had so much fun creating cozies that we couldn't resist making some quirky designs as well. Some are happy, some are random and some are cute. Here's what fits in this category: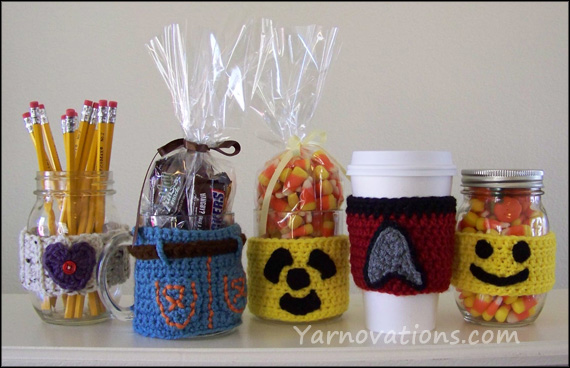 SMILE – cup – Stitch any grin
STAR TREK – cup – Change colors for different personnel
COUNTRY HEART – cup – Sweet button detail
JEANS / PANTS – mug – Stitch pockets and zipper
RADIOACTIVE – mug – Caution, contents may be hot
Crochet Cup Cozy Patterns –Frilly
Just for fun, we created a few frilly designs. These are more "girly" and are perfect for fancy yarns that will show off nice stitching. Cables and shells are a fun way to dress up any mug.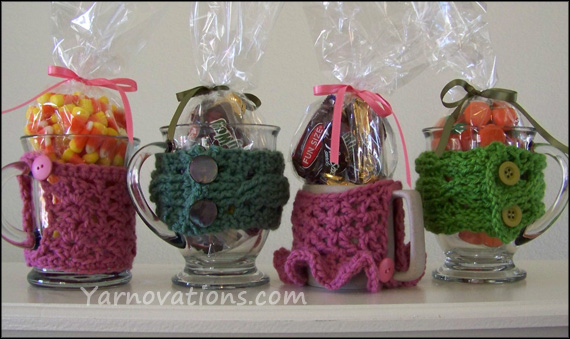 SHELL – mug – Cute repeated pattern
SHELL WITH RUFFLE – mug – All dressed up
SINGLE CABLE – mug – Add buttons for flair
THREE CABLES – mug – Maximum fun with cables
Crochet Cup Cozy Patterns –Available in the Store
This crochet cup cozy set is now available in the store. All the patterns mentioned above are included! What a screaming deal!
The Star Trek cup cozy is available FREE with or without purchase. You can get your copy of it in the store.