Sock Monkey Toys and Gifts Crochet Pattern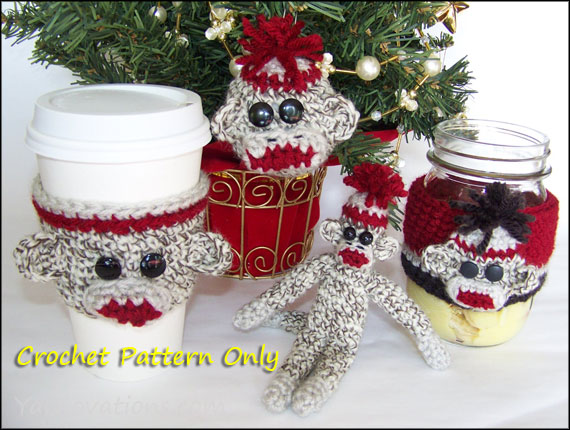 Hey all you Sock Monkey lovers out there….we've done it again. We've created some toys and cozies that you are gonna love and brought them all together in one set.
Mini Sock Monkey
This mini sock monkey is the perfect size for carrying around with you wherever you go. He can be made into a key chain, a backpack buddy or even an office accessory.
Sock Monkey Christmas Ornament
The sock monkey ornament takes on the shape of a traditional Christmas ball, but with the face of sock monkey! He loves hanging on the tree!
Sock Monkey Applique
The sock monkey applique is the perfect size for sewing to bags, scarves, hats and more. We've sewn it to a cozy…making it a fun gift idea!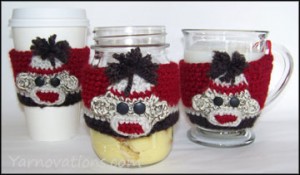 Sock Monkey Cozies
We love cozies. This pattern includes two unique designs in three sizes each. There are directions for mason jars, mugs and tapered cups/glasses! That's six cozy patterns!
There are two delicious recipes, too! You can make monkey bread in the morning and banana pudding for dessert in the evening!
Sock Monkey Toys and Gifts – Available in the Store
The Sock Monkey Toy and Gift Set is available in the store.

That's 9 crochet patterns and 2 recipes! See the store for more details.