Product Review: easyloop® Fauxchet® Tool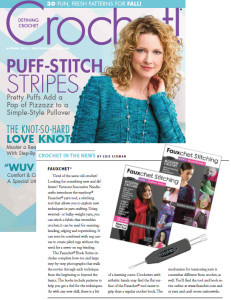 There's a new fiber arts tool hitting the market. Did you see it highlighted in the Autumn 2013 Crochet! Magazine (page 8)? We did..and we were intrigued! We were given a couple of the new easyloop® fauxchet® tools to review…and here's what we thought:
Fauxchet® is Easy to Learn
Fauxchet® is super easy to learn. My sister and I were Fauxcheting in minutes thanks to the detailed instruction booklet and videos! We showed several friends (knitters and crocheters) how the easyloop® tool works and they picked it up super quick too.
I've taught friends how to crochet, knit and Fauxchet® and I have to say, Fauxchet® is, by far, the easiest craft for people to learn.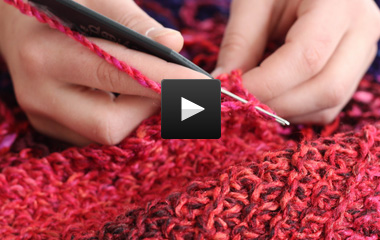 The Art of Fauxchet™ instruction booklet (free with purchase) is full of tips and tricks for mastering the easyloop® tool. There are a ton of photos with step-by-step instructions. The how-to videos are helpful for those who need to see it in action. You'll be impressed with how easy it is to learn.
Practice Makes Perfect
Though Fauxchet® is easy to learn…it takes a bit of practice to master. That should be no surprise, since all fiber arts skills take time. Making each stitch consistent in size is the key to making a nice looking fabric and there are tips in the instructions booklet to help you learn how to do that.
With a bit of practice, you'll create "muscle memory", which is a fancy way of saying your hands will learn to move smoothly and consistently as it makes each stitch. Don't rush the process. We recommend that you make a couple of swatches before starting your first pattern. One of our first projects was a trivet. Another was a market bag.
What the easyloop® Fauxchet® Tool Does
As soon as we were comfortable using the easyloop®  tool, we were curious to learn as much as we could about everything it can do. Here's what we learned:
It creates a loose drapey fabric which is a reflection of how the tool is to be used…with a relaxed grip so the yarn can glide through the tool smoothly and easily. I tend to crochet rather tightly, so it was a bit of a mind shift for me to relax and make what felt like large stitches.
Fauxchet® is similar to crochet in that you insert the tool through loops. With Fauxchet® you generally work across your work from left to right (if you're right handed) which is opposite from how crochet is worked. However, depending on the project, it is possible to work in either direction. The fabric it can make looks similar to crochet and knitted stockinette (when turned sideways).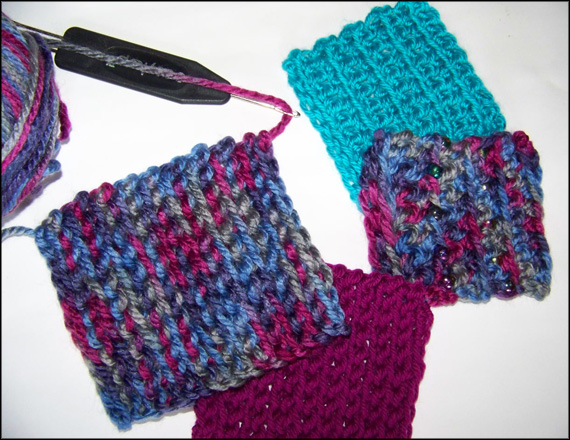 Stitches you can make include: chain, slip stitch, single fauxchet® (comparable to single crochet) and the loop stitch.
Techniques you can do include: increase, decrease, work in rows and in the round, work in front, back or both loops.
Other things you can do include: hook rugging, beaded fauxchet®, edging your work, joining motifs, top stitching (comparable to crochet chain embroidery).
A lot of crochet patterns use these stitches and techniques, so it would be easy to convert them into a fauxchet® project! In fact, we did just that and will be sharing a couple of free fauxchet® patterns on our blog.
Pros and Cons for the easyloop® Tool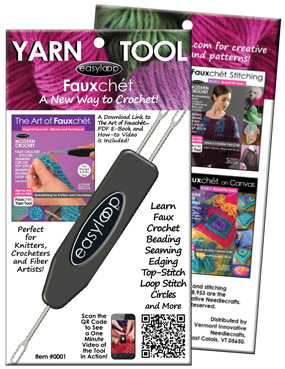 Here's what we like about the easyloop® tool:
easy to learn the basics

easy to learn the advanced techniques
easy to hold the tension yarn
easy to make edging
easy to add beads
economical to buy
great resources – instruction booklet and videos
relaxing to use
dropped stitches don't unravel the work
no hook end to snag on stitches or yarn
easy to work with two strands of yarn at once
Here are a few limitations of the easyloop® tool:
doesn't make tall stitches like double or treble crochet

dropped stitches create large loops in work
recommended for worsted or bulky weight yarn only
tool is stuck in middle of the skein if project is frogged (ripped out) part way or if you want to use a different tool (you must cut your yarn to get your tool out of the skein)
if you pull on the wrong side of the yarn the tool gets stuck (easier to understand when you are first learning)
As you can see, the pros out weigh the cons.
If you like playing with new tools and gadgets…you should try this tool. If you're a knitter who thinks crochet it too hard, you should try this tool. If you teach fiber arts classes or seminars, you should try this tool. If you are the type of person who frequently switches between projects (be it knitting, crocheting or loom knitting) than you should try this tool. In short, if you're a Yarnivore like us, you'll want to see  for yourself what the  easyloop® tool can do.
Learn More About Fauxchet®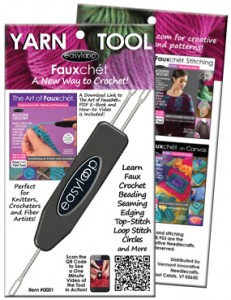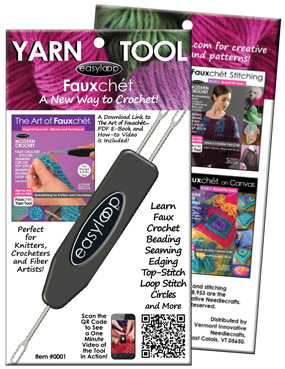 The easyloop® Fauxchet® tool retails for only $9.99 and will come with an instruction booklet (starting August 19) and access to The Art of Fauxchet™ instruction booklet as well as several how-to videos.
Visit the Fauxchet website to learn more.
Look for the tool at your local yarn shop.