Panda Hat For Baby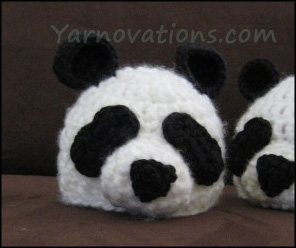 Panda hats are cute, cuddly and just plain fun….and babies look beary adorable in them! The world is infatuated with panda bears, which are currently listed as an endangered species. The black eye patches, ears, legs and shoulders make the panda distinctive looking and fun to recreate in yarn. We have done just that with our panda hat for babies.
Panda Hat for Baby – FREE Crochet Pattern
These crocheted panda hats for babies are adorable, quick and easy to make. Crocheted with two strands at once, they can usually be made in one sitting. Perfect for an expected arrival or a last minute gift, this is one special hat that will be a (panda) bear to make!
This free crochet pattern for the panda hat comes in two sizes: newborn (0 to 6 months) and Infant (6 to 12 months).

Panda Hat for Baby – Comments Welcome

Free Patterns Page: Download the pattern from the FREE Crochet Patterns page.
Store: Add the Panda Hat Free to your cart in the Store.
The panda hat pattern hasn't been officially tested…so please let us know if you spot any errors in the pattern or if you have questions about the directions. If it all looked good, let us know that, too!