I Love Yarn Day (October 11) – Heart Cozy and Yarn Keeper Jar
Yes, I have "I love yarn day" on my calendar. A few years ago I would have scoffed at such a "silly" day. Not so any more. This is an important day to celebrate!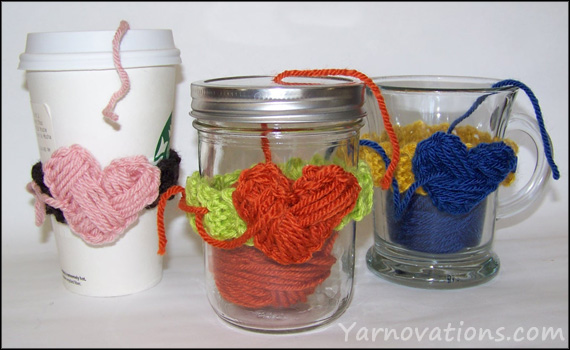 In support of this momentous day, I've created a special mason jar cozy and yarn keeper. Let's get started with the mason jar then work our way to the cozy.
Mason Jar Yarn Keeper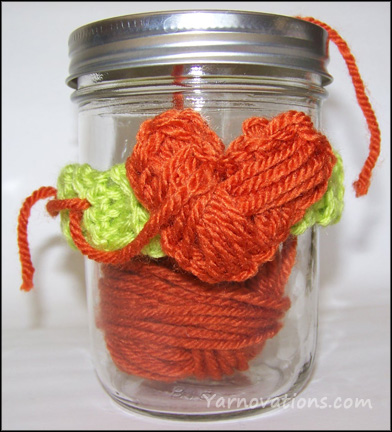 This mason jar yarn keeper is similar to yarn bowls and yarn keeper bags. The mason jar version has the added benefit of looking adorable on a shelf stuffed with yarn in a kaleidoscope of colors.
Benefits: A mason jar yarn keeper helps keep remnants of yarn clean and tangle free. It can hold a small ball of yarn that has either a center pull or is pulled from the outside. The biggest benefit is that the ball of yarn won't roll away while you work. The tail is fed through a hole in the lid which helps it unwind smoothly which will help with consistent tension.
We have filled our jars with hand wound balls of yarn. We've written a post on how to make a center pull ball of yarn by hand if you'd like to create balls with your remnants.
There are three options for the lid. Supplies and directions for all three are listed below.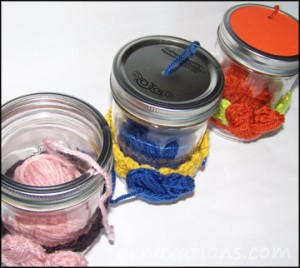 SUPPLIES:
Wide Mouth Mason Jar
Wide Mouth Lid
Option 1:
Option 2:
Crop-A-Dile Big Bite or Hole Punch
Plastic Packaging
Marker
Scissors
Option 3:
Cardstock
Hole Punch
Pencil
Scissors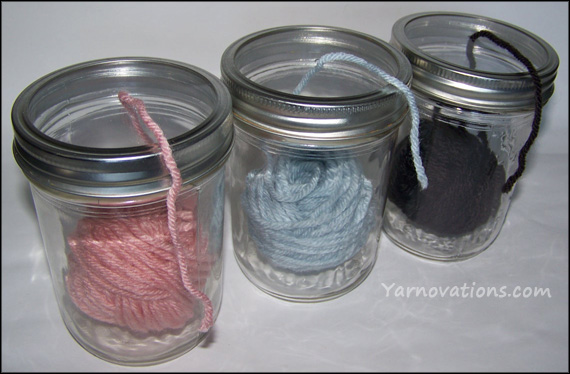 INSTRUCTIONS:
Option 1:
This is the quickest method. It works great for papercrafters who already own the Crop-A-Dile, a special hole punch and grommet setter that can reach 6".
Set the Crop-A-Dile to the 3/16 setting and punch a hole in the lid (either in the center or where desired).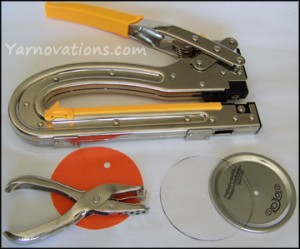 Option 2:
This is a fun option if you want a transparent lid. You can us use the fancy Crop-A-Dile tool or a single hole punch.
Trace the wide mouth lid on a piece of plastic packaging with a marker.
Cut out the shape with scissors. For a better fit, cut off (cut on the inside of) the traced circle.
Use Crop-A-Dile or hole punch to punch a hole.
Option 3:
This is a cute option for coordinating the lid with elements inside the jar. This also uses common elements you'll find around the house.
Trace the wide mouth lid on a piece of cardstock with a pencil.
Cut out the shape with scissors. For a better fit, cut off (cut on the inside of) the traced circle.
Use a hole punch to punch a hole.
Feed the yarn through the hole, place lid on jar and screw the lid to lock it in place.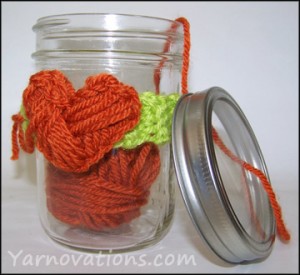 I Love Yarn Day Cozy
I couldn't resist creating a heart shaped yarn ball for I Love Yarn Day. This quick cozy will help you flaunt your love of yarn.
Though we've used Vanna's Choice for this project, this is an awesome stash buster. If you love yarn, then no doubt you've got a stash!
Skill Level: Easy
Stitches Used: Chain, Slip Stitch, Single Crochet, Double Crochet, Treble (Triple) Crochet
Techniques Used: Crochet in Rows, Crochet in the Round, Crochet in Both Loops, Crochet in Back Loops Only, Embroidery
COZY SUPPLIES:
Vanna's Choice: Worsted Weight (4)
RADIANT LIME, TERRACOTTA
(Mug: Colonial Blue, Mustard)
(Cup: Chocolate, Pink)
Crochet Hook: H/8/5.00 mm
Yarn Needle for Sewing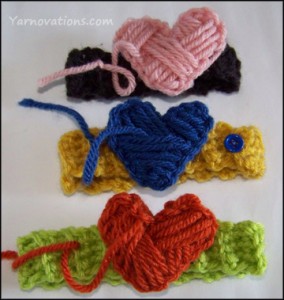 COZY INSTRUCTIONS:
Radiant Lime
Hook: H
Ch 5
Row 1: Sc in 2nd ch from hook. Sc across. (4)
Row 2-28: Working in the back loops only, sc across. (4)
Finish off leaving a long tail for sewing.
Sew ends of cozy together with whip st across.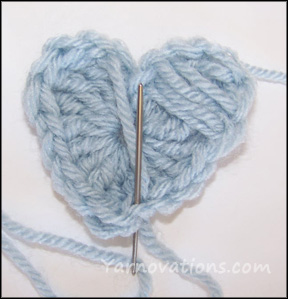 HEART INSTRUCTIONS
Terracotta (shown here in Silver Blue)
Hook: H
Leaving a long tail: Ch 5
Rnd 1: In the 5th ch from hook work: 3 trc, 4 dc, 1 trc, 4 dc, 3 trc, ch 3, sl st into the same stitch. Pull tail tightly to close the hole. Finish off leaving a long tail for to drape across cozy. (17)
With tail from beginning ch, sew yarn ball looking stripes (sewn in groups of four or as desired). Finish off leaving a long tail for sewing.
Sew heart to cozy covering up the whip st join. Weave in ends.
With tail left over from Rnd 1, create a curl in the yarn and sew to cozy as desired.
More Cozies in Store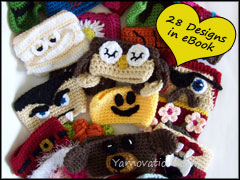 Love this heart cozy? There are more seasonal, holiday and just for fun cozies in the store in our Crochet Cup Cozy eBook. We've created an entire collection with 28 designs one ebook.
Looking for the cup and mug version? They're in the ebook.
Each design in the ebook has instructions to fit Mugs, Cups and Mason Jars. Every design has a delicious recipe or fun craft.
The ebook includes 3 new designs – Dracula, Vampire and Blue Jeans.

Read more about the set:
Blog: Coffee Cup Cozy Collection
Store: Coffee Cup Cozy Collection