Father's Day Gift Ideas – Steak Rub Recipe and Crochet Mustache!
We have two Father's Day gift ideas for you…a steak rub recipe and a crochet mustache jar cozy. Combine the two and not only will you create a tasty gift for dad, but a stylish one, too!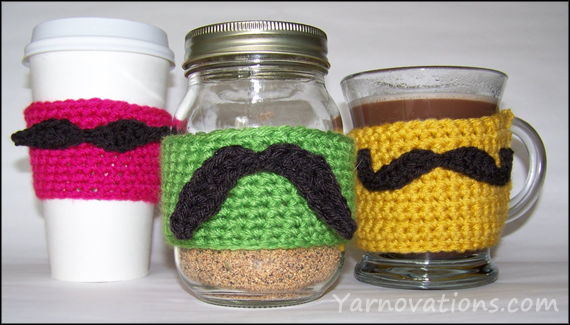 I'm not spoiling the surprise by sharing this gift idea with you. My dad likes plain old table salt. So, he's not getting this particular rub. My husband, on the other hand, loves seasonings so much that his friends have nicknamed him "flavor boy". He'll be grilling with this rub for sure!
To round out this Father's Day gift idea, we have created a crochet mustache jar cozy. Mustaches are distinctively masculine and 100% fun!
Let's start with the Steak Rub Recipe. You may need to order our secret ingredient online if you can't find it at a grocery store or seasoning shop.
Steak Rub Recipe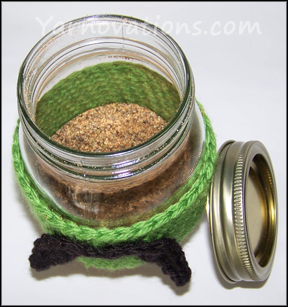 Father's Day is just one excuse for grilling. This steak rub recipe is another!
You're going to love the rich bold flavor of our secret ingredient…smoked sea salt. Smoked salt captures both the scent and flavor of campfire cooking. It is my husband's favorite seasoning, and it's the #1 ingredient in our steak rub.
Note: we recommend getting a strong smokey salt. Look for words like "extra bold" or "bonfire".
We've kept the quantity of this rub recipe small so you can sample it before committing to a large jar of it.
INGREDIENTS & SUPPLIES:
3 Tablespoons Smoked Sea Salt
2 Tablespoons Coarse Black Pepper
1 Tablespoon Garlic Powder
1 Tablespoon Spiced Ranch Mix (dry packet)
1 teaspoon Chili Powder
1 teaspoon Paprika
1 teaspoon Onion Powder
1/2 teaspoon Ground Mustard
1/4 teaspoon Cumin
DIRECTIONS:
Mix all ingredients together in a bowl.
Store in mason jar.
SERVING:
Brush steak with olive oil.
Sprinkle dry rub on steak. (We like lots of flavor so we spinkle approximately 1 Tablespoon on each side of a thick Ribeye)
Allow steak to rest at room temperature for 30 minutes before grilling.
Grill steak to desired temperature.
Enjoy!
Note: This tastes great on Pork Chops, too! Just sprinkle 1/2 teaspoon on each side. This rub is a little spicy.
Caution: Always use a clean spoon when scooping out seasoning for use on steak. You do not want raw meat to come into contact with seasonings that are being stored for later use.
Crochet Mustache Jar Cozy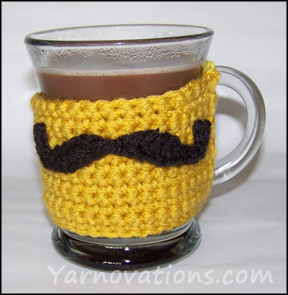 Now that the rub is out of the way, let's get to the crochet mustache jar cozy. This cozy can be used on jars and cups. Super fun!
We're using Vanna's Choice (worsted weight: 4) for this project. This is a great stash buster!
These are fun for everyday use…but here are some other "special" days you may want to break out these cozies for public admiration:
International Fake Mustache Day – February 3rd
National Fake Mustache Day – February 24th
Oakland A's Mustache Day – June 18th
Movember: National Grow a Mustache Month– November
Skill Level: Easy
Stitches Used: Chain, Slip Stitch, Single Crochet, Half Double Crochet, Double Crochet
Techniques Used: Crochet in the Round, Crochet in Rows, Increase
SUPPLIES LIST:
Vanna's Choice (Worsted Weight: 4) – Approx 21 yards total
Green Jar Cozy: FERN, ESPRESSO
(Pink Cozy: BERRYLICIOUS, ESPRESSO)
(Yellow Cozy: MSUTARD, ESPRESSO)
Hook: H / 8 / 5.00 mm
Yarn Needle for sewing
Crochet Mustache Cozy Pattern
JAR COZY INSTRUCTIONS
Fern
Hook: H
Ch 34, join with a sl st.
Rnd 1-10: Sc around. (34)
Join with a sl st. Cut yarn and weave in end.
MUSTACHE INSTRUCTIONS
Creating mustaches with yarn was so much fun…I made three. Which is your favorite?
NOTE: Additional shaping of the mustaches is accomplished in the pinning and sewing of them to the cozy.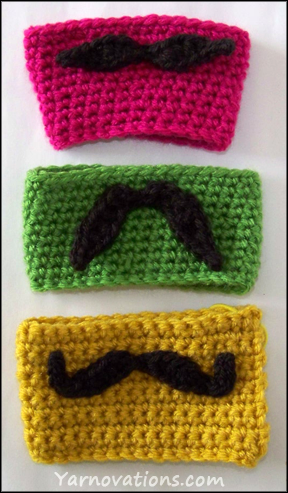 ENGLISH MUSTACHE INSTRUCTIONS (as seen on the pink cozy)
Espresso
Hook: H
Ch 16
Row 1: Sl st in 2nd ch from hook. Sl st, sc, hdc, dc, hdc, sc, sl st, sc, hdc, dc, hdc, sc, 2 sl st. (15)
Pin then sew mustache to top of cozy.
FU MANCHU MUSTACHE INSTRUCTIONS (as seen on green cozy)
Espresso
Hook: H
Ch 18
Row 1: Sl st in 2nd ch from hook. Sc, hdc, 2 dc, hdc, sc inc, sc, sl st, sc, sc inc, hdc, 2 dc, hdc, sc, sl st. Finish off leaving a long tail for sewing.
Pin then sew mustache to top of cozy.
HANDLEBAR MUSTACHE INSTRUCTIONS (as seen on the yellow cozy)
Espresso
Hook: H
Ch 25
Row 1: Sl st in 2nd ch from hook. 5 sl st, sc, 4 hdc, 2 sl st, 4 hdc, sc, 6 sl st. (24)
Pin then sew mustache to top of cozy.
More Cozies in Store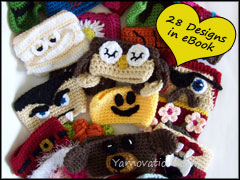 Love this mustache cozy? There are more seasonal, holiday and just for fun cozies in the store in our Crochet Cup Cozy eBook. We've created an entire collection with 28 designs one ebook.
Looking for the cup and mug version? They're in the ebook.
Each design in the ebook has instructions to fit Mugs, Cups and Mason Jars. Every design has a delicious recipe or fun craft.
All 3 mustaches pictured at the beginning of this post are in this ebook! AND the ebook includes 4 new designs – Dracula, Vampire, Mummy and Blue Jeans.

Read more about the set:
Blog: Coffee Cup Cozy Collection
Store: Coffee Cup Cozy Collection