Crochet Snowflake Free Patterns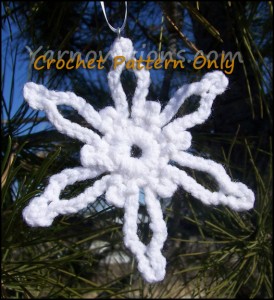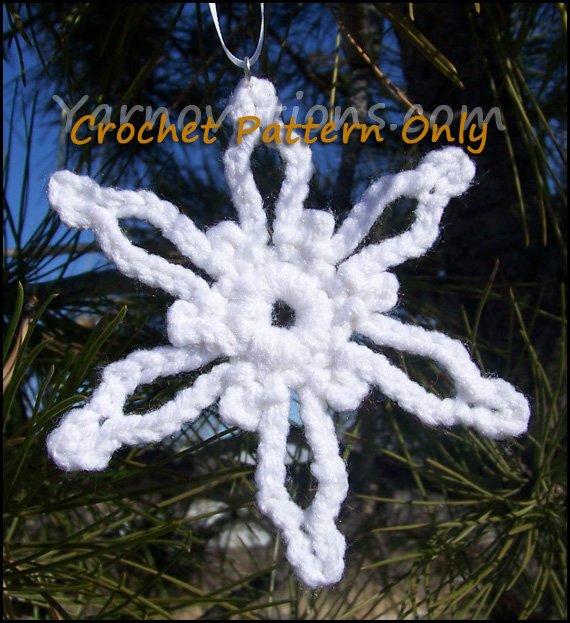 If you're looking for "crochet snowflake free patterns", we've got a fun one for you! Make snowflakes that are cute, quick and adorable this holiday season! This is perfect for decorating Christmas trees, a window in your house or office and perfect for sprucing up gift wrapped presents.
This pattern is great for beginners because it calls for medium worsted weight yarn (4). Something like Red Heart Super Saver White would be perfect. The pattern calls for knowledge of chains, single crochet and slip stitch.
Crochet Snowflake Free Patterns – Stiffening Instructions and more…
Included in this crochet snowflake free pattern is complete instructions on making appliques and ornaments! We provide pictures and step by step instructions on how to turn your homemade snowflake into a beautiful Christmas decoration!
The snowflake measures 3 1/2 inches with a C hook and 5 inches with an H hook. And if you want to add a little more sparkle to your project, we've even included instructions on how to add glitter! Oh, la, la!
Here's what's included in this Crochet Snowflake Free Patterns instructions:
3 1/2 inch snowflake pattern
5 inch snowflake pattern
3 stiffening instructions
1 glitter instructions
Ornament instructions
Information about snowflakes, appliques and ornaments
Photos, supply list, gauge info and more…

Free Patterns Page: Download the pattern from the FREE Crochet Patterns page.
Store: Add the Snowflake Free to your cart in the Store.
Want More Crochet Snowflake Patterns and Christmas Gifts Bags?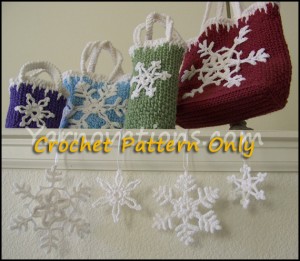 For the snowflake enthusiast, we've created a Christmas Gift Bag set that includes 4 sizes of gift bags with a different snowflake for each bag. With decorative paper gift bags costing between $2 and $4 at the store, it's cheaper to make your own gift bags!
The Christmas Gift Bag Set is available in the store. Buy it for the bag instructions or just for the snowflakes!