Crochet Christmas Ornaments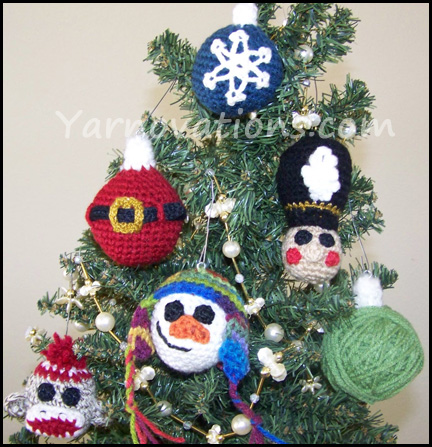 Crochet Christmas ornaments are a fun and festive way to decorate for the holidays.  From the classical to the whimsical, these crocheted ornaments are designed to please everyone in the house this Christmas.
They are quick and easy to make and most ornaments can be crocheted with just remnants of yarn. Decorate the tree; accessorize a present; hang them from doorknobs. These little ornaments can bring cheer wherever they're needed.
Skill Level: Easy
Dazzle your friends and family with these ornaments. Show them that crochet can be traditional yet untraditional all at the same time.
Need a gift for a dog lover? Sneak a squeaker into one of these ornaments and turn it into a hand crocheted dog toy!
Crochet Christmas Ornaments – The Details
This crochet Christmas ornaments pattern set includes the directions for six fun and unique ornaments.
Most of the ornaments use a basic medium weight yarn for the base ornament with fine or super fine yarn for the details. Each ornament is crocheted in the round and the pattern includes instructions using US abbreviations, a materials list, gauge information, check boxes to keep track of your progress, photos, and more.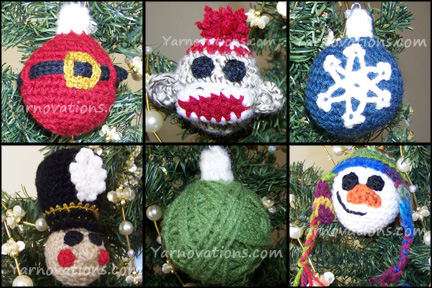 Let's take a closer look at each ornament:
Snowman Crochet Christmas Ornament – This 2 3/4 inch tall winter classic comes with a removable chullo (ear flap hat) and a quirky smile sure to warm everyone's heart. Hang without the hat and the snowman looks like a golf ball – perfect for the golfers in your life.
Toy Soldier Crochet Christmas Ornament – This 4 1/2 inch tall Nutcracker character brings a solemn demeanor to the festivities, guarding the hopes and dreams of all those present.
Santa's Belly Crochet Christmas Ornament – Like a bowlful of jelly, this 3 1/2 inch tall merry belly comes with a belt that can be tightened, loosened, and with a metal buckle, removed altogether. Directions include how to make a crocheted buckle or how to use a metal buckle.
Sock Monkey Crochet Christmas Ornament – A childhood favorite, this 2 1/2 inch tall ornament is for the young at heart. Fun for the little ones and for those that remember their sock monkey friend.
Ball of Yarn Crochet Christmas Ornament – Yarnivores of every kind will enjoy this 3 3/4 inch tall yarn ball. Whether a knitter, a crocheter, or a yarn crafter in general, this is a fun way to bring one's love of the fiber arts into the festivities.
Snowflake Crochet Christmas Ornament – Bringing two classic decorations together, this 3 inch tall ornament combines the ball ornament with the snowflake ornament. Separate they decorate all kinds of spaces, together they spice up  the place.
Crochet Christmas Ornaments – In the Store
These crochet Christmas Ornaments are available now in the store. When you purchase through our website, you'll immediately receive a receipt which includes a link to download the PDF pattern.
Order today and start crocheting right away!