Celebrate Armed Forces Day with Soup in a Jar
We're celebrating armed forces day with soup in a jar.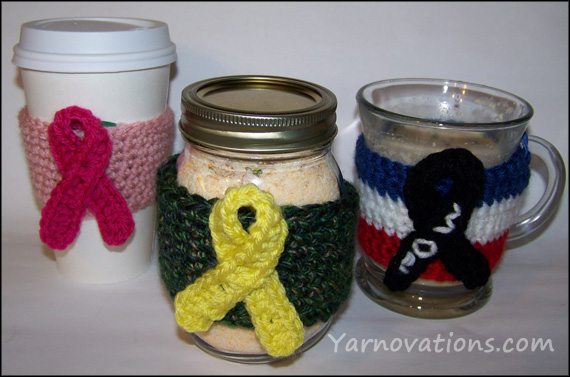 We are thankful for the men and women who serve our country in the military. We couldn't resist creating an "MRE" (meals ready to eat) type recipe for this week's mason jar.
This project is very simple to make. In fact, this cozy may be the easiest one's we've made to date!
Armed Forces Day – Jar Cozy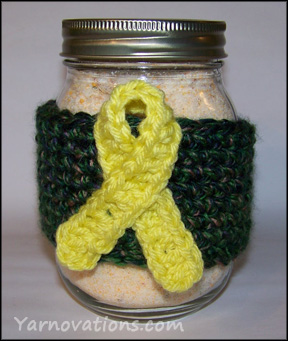 Many organizations use a crossed ribbon to help raise awareness of their cause. The yellow ribbon signifies a wish to see our troops come home. A black ribbon helps us remember prisoners of war and those missing in action.
Though it's not military related, we are demonstrating how this cozy can be used for most any cause with a change of color. The pink ribbon is used to raise breast cancer awareness.
Cozy Supplies
Vanna's Colors (Bulky – 5): Pine
Vanna's Choice (Worsted – 4): Radiant Yellow
(Black Ribbon: Vanna's Choice – Scarlet, White, Colonial Blue, Black)
(Pink Ribbon: Vanna's Choice – Berrylicious, Pink)
Hook: H/8/5.00mm
Hook: K/10.5/6.5mm
Yarn Needle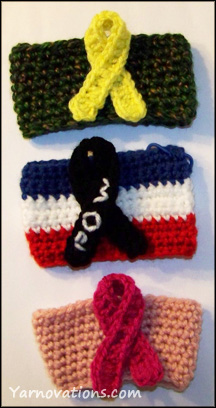 Cozy Instructions
Pine
Hook: K
Ch 28, Join with a sl st
Rnd 1-8: Sc around. (28)
Rnd 9: 2 sl st. Leave remaining sts unworked. Finish off and weave in ends.
Ribbon Instructions
Radiant Yellow
Hook: H
Ch 30
Row 1: Work in the back loop only. Dc in 3rd ch from hook, dc across. Ch 2, sl st into base of last st made. Finish off leaving a long tail for sewing.
Embroider if desired.
Cross ribbon and sew to cozy. Weave in ends.
"Just Add Water" Soup in a Jar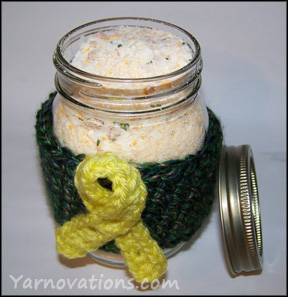 Most soup in a jar recipes require additional ingredients like meat, oil and dairy when the soup is being prepared. Those extra ingredients aren't usually available to those who are roughing it. So we came up with the following "just add water" recipe.
As a side note: this recipe would be great for those who are camping or backpacking. And it would be a great snack item or quick meal for the kids, too!
Potato Cheese Soup Recipe
1 ½ cups instant mashed potatoes
1 cup instant coffee creamer (or powdered milk)
1/3 cup cheddar cheese powder (or 1 ½ packets of Kraft Mac and Cheese packets)
1 ½ teaspoons chicken bouillon
1 teaspoons dried onion flakes
½ teaspoon dried parsley
¼ teaspoon garlic
¼ teaspoon pepper
¼ teaspoon Greek Seasoning (or seasoning salt)
¼ cup imitation bacon bits (optional)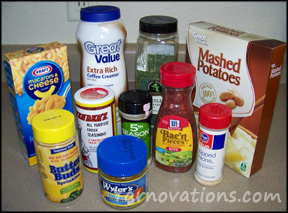 Mix all ingredients together thoroughly. Store in mason jar.
To serve, mix ½ cup soup mix with 1 cup boiling water. (For a thicker soup, use ¾ cup soup mix to 1 cup water).
Note: The imitation bacon bits are an over powering ingredient. Only add them if you know you like them.
"Just add water" Recipe Alternatives
There are other "just add water" foods you can use instead of the Potato Cheese Soup. If you're looking for a simple alternative – buy pre-mixed foods. Be sure to include cooking instructions if these are a gift item.
Pancake Mix (Aunt Jemima)
Brownie Mix (Krusteaz)
Cornbread Mix (Marie Callender's)
More Cozies in Store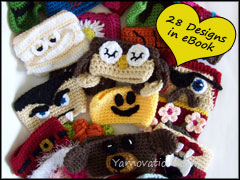 Love this cause ribbon cozy? There are more seasonal, holiday and just for fun cozies in the store in our Crochet Cup Cozy eBook. We've created an entire collection with 28 designs one ebook.
Looking for the cup and mug version? They're in the ebook.
Each design in the ebook has instructions to fit Mugs, Cups and Mason Jars. Every design has a delicious recipe or fun craft.
All 3 of the cause ribbons pictured above are in this ebook! And there are 4 new designs – Dracula, Vampire, Mummy and Blue Jeans.

Read more about the set:
Blog: Coffee Cup Cozy Collection
Store: Coffee Cup Cozy Collection