Broomstick Lace Scarf and Cowl Pattern
Have you tried Broomstick Lace? It is a lot of fun. We've incorporated it into this scarf and cowl pattern. Not only does this broomstick lace use two different sizes of knitting needles, it has a repeated motif that includes single crochet and puff stitch.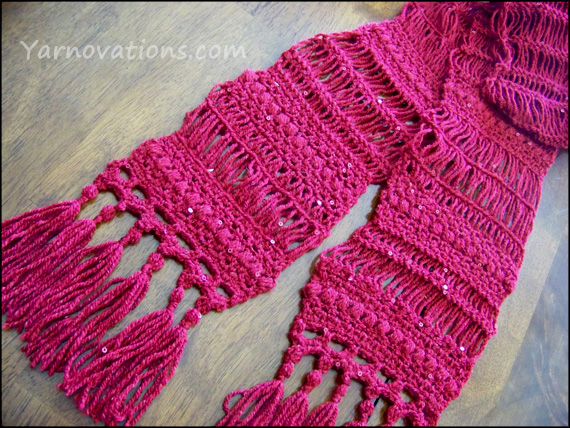 This is an adorable scarf and attractive cowl. The design is so fun, you'll want to make both the cowl and the scarf for yourself!
Don't be fooled…this is 100% crochet! It only looks like a knitted project!
Broomstick Lace and Puff Stitch Videos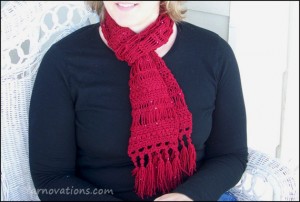 We've created a couple of videos to show you how easy those stitches are to crochet. So, if you don't know how to crochet broomstick lace or the puff stitch…or if it's been a while since you have…No problem.
The Broomstick Lace video shows traditional broomstick lace and single stranded broomstick lace like this pattern uses.
A link to the videos is in the pattern.
Broomstick Lace Scarf and Cowl Pattern Details
The scarf in the above photos is crocheted in Vanna's Sequins. It's a light weight yarn (3). The scarf is shown in Ruby.
The cowl is crocheted in Sensations Enchantment. It's listed as a Medium weight (4) yarn but it feels similar in weight to the Vanna's Sequins. The cowl shown below is crocheted in Pink Metallic.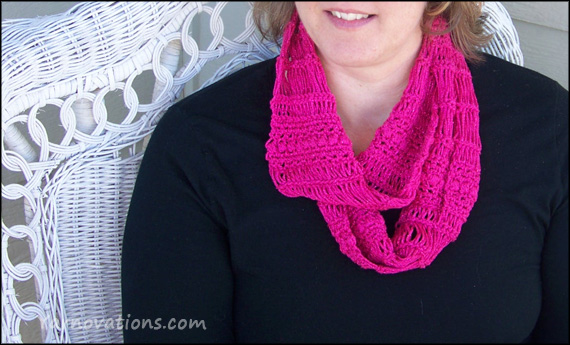 The pattern includes lots of photos. It has all of our signature stuff like checkboxes to mark your progress, supplies list, instructions for special stitches, etc. And now, the special stitches have videos.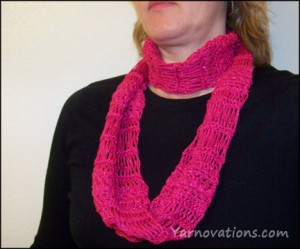 Skill Level: Intermediate
Stitches used: Broomstick Lace, Puff Stitch, Single Crochet, Chain
Once you learn the stitches, this scarf is super easy and fun to crochet.
The pattern is available in the store.
****New photo 4-14-2013
We've whipped up this pattern using Milky Whey yarn. It's sooo dreamy. You can read more about our thoughts on our post: Summer Scarf!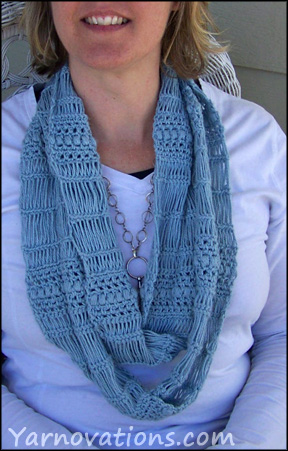 Milky Whey is a yarn from Kollage yarns. It's 50% Milk and 50% Soy.
Milky Whey is soft and dreamy. I love working with it and wearing it!
Alternatives would be bamboo or silk or some blend of yarn that has little elasticity.
Enjoy!