Summer Scarf – Single Stranded Broomstick Cowl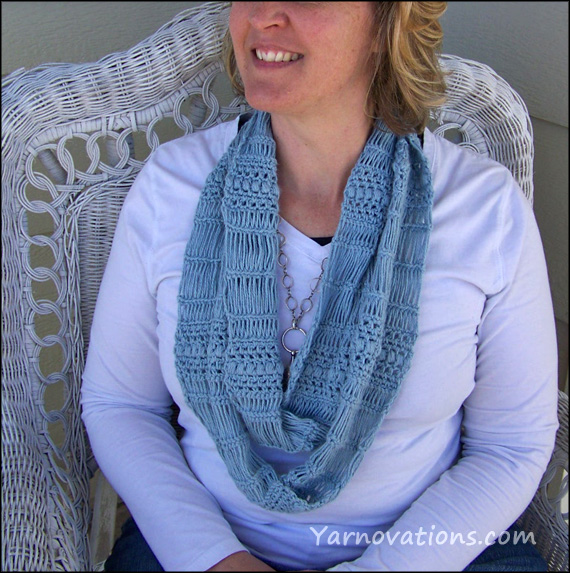 As the temperatures start to rise, a summer scarf project is just the thing. We've whipped up our Broomstick Lace and Puff Stitch Cowl in a soft and luxurious Milky Whey yarn.  Oh la la, it's heavenly!
Not only does the Milky Whey yarn have beautiful drape, it's extremely soft and comfortable to work with and feels silky and smooth around the neck. It's my number one go-to scarf these days!
The light and airy single stranded broomstick lace pattern makes this a nice summer scarf. The cowl pictured is extra long…allowing it to wrap around the neck once or twice. For a cooler version (for those really hot summer days) I would recommend crocheting a shorter or thinner piece.
Summer Scarf – The Pattern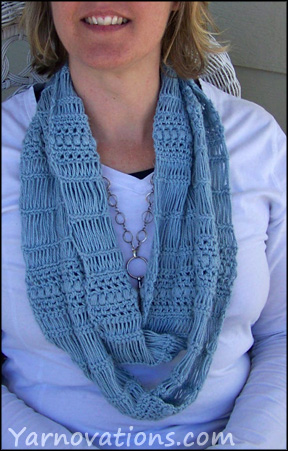 This summer scarf was made following the Broomstick Lace Scarf Pattern. It's amazing how different a piece will look when you simply change the yarn!
The Milky Whey pictured has really nice drape. And if you can get your hands on some, I would highly recommend it. You won't be disappointed, promise! Nice alternatives would be bamboo or silk (or a cotton blend). I think the stitch pattern really stands out with a yarn that has little elasticity.
The repeat in this pattern is easy to memorize. This is a great project to toss in a bag and take with you as you run errands. It uses only a few stitches – chain, single crochet, puff stitch and broomstick lace.
We have created a couple of quick videos that demonstrate the stitches used in this piece. You can see them on YouTube:
Enjoy!