Trick or Treat Bags – The Monsters of the Stash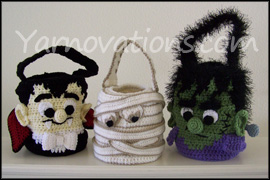 These classic monster trick or treat bags are great for sprucing up a costume and holding a sizable stash of candy. They are sure to be coveted by all the little ghouls and goblins this Halloween. And they make handy little treat bags for your home or office!
Make them friendly or little scary with the stitching of the mouth and the placement of the eyes. Though they are watching you, they won't tell how many sweet treats you've eaten today!
Trick or Treat Bags – Crochet Pattern
The crochet pattern for each of these monster treat bags features a famous monster in history. Crocheted two strands at a time, these bags work up quickly for a ghoulish surprise.
Suck the candy from your friends and neighbors with a Dracula bag. Complete with a cape, bow tie, and fangs, you can count on the Count with your Halloween candy. He measures
The Frankenstein monster will keep things safe in this shaggy headed bag. Crocheted with Fun Fur, this fun treat bag will hold quite a stash.
Wrap up your treats in Mummy's bandages. Crocheted as a solid bag, a separate crocheted bandage allows you to wrap it up tight, just the way you like it. The mummy measures 7″ tall  x 6 1/2″ wide by 21″ around.
Each treat bag is crocheted as a solid unit with the facial features crocheted separately and sewn on. Each bag requires color changes. The mummy has color changes at the ends of rounds while the Frankenstein and Dracula bags have changes in the middle of rounds as well as at the ends of some rounds. Directions for changing colors is included in the pattern.

Trick or Treat Bags – Available in the Store
Friendly or scary, make these bags to fit your trick or treating style. Order your pattern from the store for a monster sized good time.