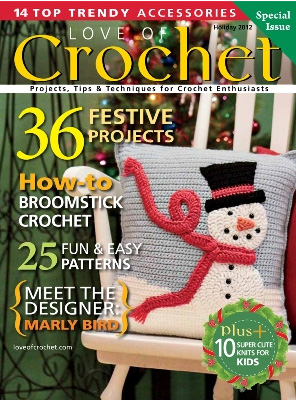 We've been published. This is our first publication and we are thrilled.
Check out the two patterns we have in the Fall issue of "Love of Crochet". This issue has lots of fun stuff including holiday decor, winter accessories, kitchen goodies and more.
"Love of Crochet" is available at your local craft store like Hobby Lobby or Joann. It's also available online at "Love of Crochet."
It's winter. Dress up baby in this adorable monkey set. It includes monkey hat, mittens and booties.
This makes a delightful photo prop in addition to being a cute winter outfit.
This little monkey outfit is gender neutral and is great for new baby boys and girls. Make in browns like we did or crochet in cute baby colors.
We created this outfit for the newest member of our family. His nursery is decorated in a jungle theme. He's an adorable little monkey!
UPDATE: This is now available on our website! See Lil Monkey Baby Hat Set in the shop.
Perfect Purse
What makes this little purse perfect? Is it the petite size? Is it the cute button closure? Or is it the adorable stitching?  We think it's perfect for all of these little details and more.
The small size is large enough to stow your phone, ID and lipstick! And it makes an awesome stash buster!
We've crocheted this in lots of color combinations. We recommend you use yarn with a bit of sheen and colors with lots of contrast.
This little purse can be easily converted into the perfect hiking buddy! Instructions are included to add a belt loop and chapstick cozy!
We hope you enjoy these fun patterns as much as we did. Pick up your copy of Love of Crochet this holiday season.