Published in Love of Crochet Winter 2013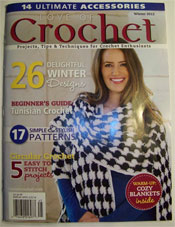 We have another crochet pattern in Love of Crochet Magazine!
If you've been following our blog for any length of time, you know that we love cup cozies. We created a special design for Love of Crochet Winter 2013.  It's the last pattern in the issue…so if you read from back to front…well, it's the first pattern you'll run across!
Have you ever wrapped both your hands around your mug to warm up your fingers? If you have, then you'll love this mug mitten cozy! This cozy allows you to tuck your fingers inside a pair of mittens…keeping your drink and your fingers toasty warm.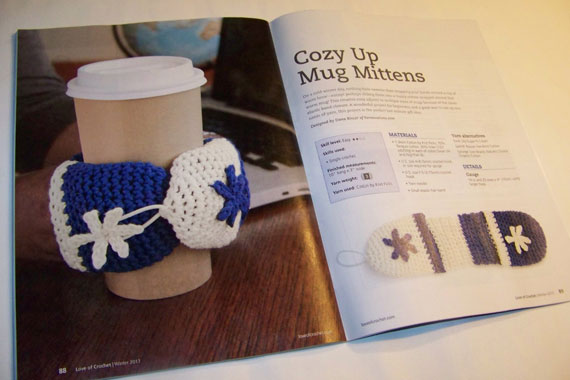 We love these mug mittens for soo many reasons.
They fit around mugs, cups and mason jars of various sizes (adjust with a pony tail band).
Your hands hug the mug and stay toasty warm in these mittens.
They are quick and easy to make.
The winter design makes them a great gift all season long.
These mug mittens are crocheted in CotLin yarn by Knitpicks.com in Swan and Nightfall.
The Cozy is a great gift idea for the holidays and it would also make wonderful thank you gift, too! We love that the design works for our family and friends of various faiths.