Christmas Gift Bags – Fun Gift Wrap and more!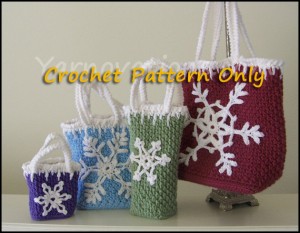 These fun and whimsical Christmas gift bags are cute, practical and economical! Decorative gift bags at the store run between $2 and $4 each. At that price, it's cheaper to make your own! These Christmas bags can be used time and time again – no need to worry about wrinkles like you do when reusing cheap paper gift bags.
This Christmas Gift Bag Pattern includes 4 sizes each with a unique snowflake making them the perfect gift wrapping for any winter occassion! Use them not only for gift wrapping, but for decorating at parties, at the office and at home! Stuff the small bag with candy canes and you're ready for the holidays! The medium and large bags make fun seasonal totes or purses. The wine bag is great for gifting a little bubbly, but they're also the perfect size for Secret Santa gifts!
Christmas Gift Bags – Snowflake Ornaments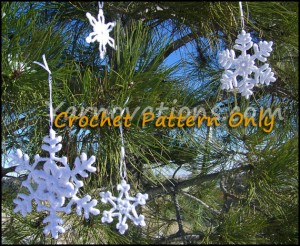 The snowflakes in the Christmas Gift Bags pattern are fun appliques that can be sewn to any project. And this pattern includes directions for making ornaments out of them! Crocheted snowflakes instantly make life more festive. They can be hung on Christmas trees or in windows. And they make great accents to wrapped gifts.
Christmas Gift Bags – The Details
Here's what's included in the Christmas Gift Bag pattern:
Small Gift Bag – 3 3/4 x 3 x 5 inches
Medium Gift Bag – 6 1/2 x 4 1/2 x 9 inches
Large Gift Bag – 10 x 5 1/2 x 11 1/2 inches
Wine Bag – 3 3/4 x 3 x 10 inches
4 snowflake patterns (depending on hook size, they measure 3 inches to 9 inches).
Directions for stiffening snowflakes
Lots of photos, gauge info, materials list, detailed instructions and more…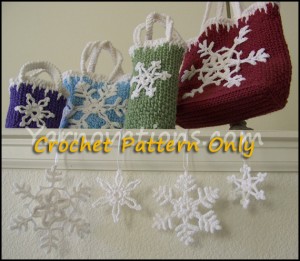 This pattern calls for use of medium worsted weight yarn (4) for both the bags and ornaments. Crocheted with a C hook, the ornaments range in size from 3 1/4 inches to 6 1/4 inches. With an H hook, the ornaments range in size from 4 inches to 9 inches.
Christmas Gift Bags – Available in the Store
The pattern for the Christmas Gift Bags and Snowflakes is now available in the store. Order today and you can start making some Christmas cheer right away.