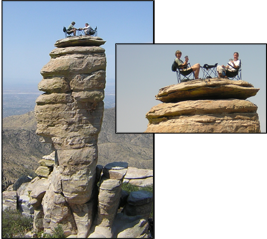 We love a good yarn (tale or story). And we love to hook it up with other yarnivores. So drop us a line.
If you don't hear from us right away, it's not because we don't care. We're probably out climbing a rock or playing cards or some other such nonsense…like the picture to the right reflects. (We climbed this tower in Arizona one summer and settled in for a nice game of Euchre. We had such a high time.)
Comments and questions (and yarns) are welcome.