Winter Hat and Scarf Gift Set – A Happy Trio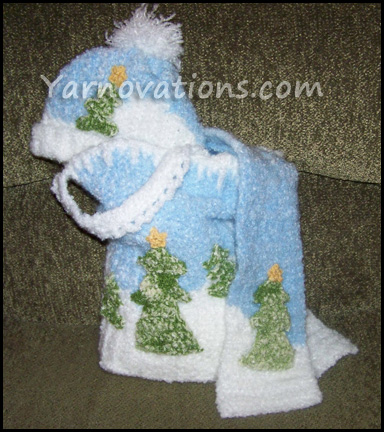 Ohhh so soft. This Winter Hat and Scarf Gift Set is cute and cuddly. Whether you make just one piece or all three, you'll love the way it feels and so will the recipient! The colors of the Sensations Rainbow Boucle yarn were calling our names begging to be turned into a winter scene. Here is the happy result.
Scarves and Hats whip up pretty quickly so they make great last minute gifts. If you have a little extra time, the gift bag is adorable – don't pass that up. We crocheted with two strands at once (held double) and used a hdc so that it would work up a bit quicker than a single crochet project.
Skill Level: The pattern is easy, but the Boucle yarn is a bit tricky to work with. If you use Boucle, please note that you probably won't be able to see your stitches. You'll have to crochet more by feel than anything. But it should be pretty easy to do since these projects are worked in a rectangle (back and forth – not in the round).
Winter Hat and Scarf Gift Set – The Pattern Details
The set is an adorable gift because the hat and scarf match and fit nicely inside the gift bag. Mix and match for your specific needs. We love that the winter scene isn't too "Christmasy" and can be worn all winter long.
The pattern includes lots of photos, written directions, a couple of charts, gauge info, materials list, check boxes to mark your progress and more. Since the stitches of Boucle are difficult to see, we've also taken photos of the tree appliques with traditional yarn.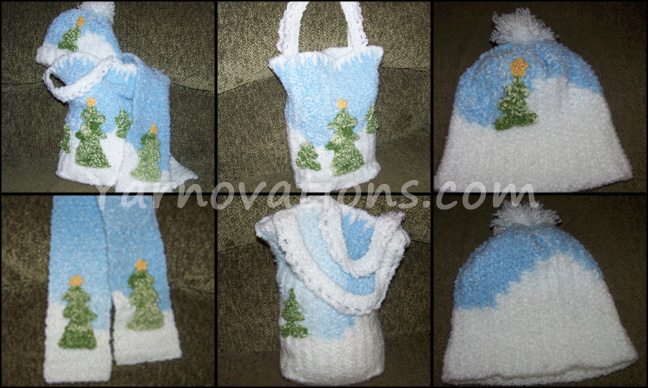 The Winter Hat Pattern
This is crocheted as a rectangle. The finished project measures 9 1/5 inches tall not including the pom pom. It's 10 1/2 inches when folded flat. It's one size fits all. It fits young boys, teen girls and adult women.
The hat pattern includes a chart as well as written instructions. It can be easily modified for larger or smaller sizes. There are photos and instructions on how to make the pom pom. And of course photos and directions for the tree.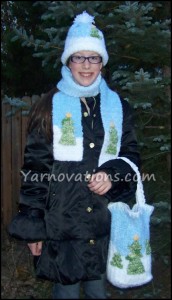 The Winter Scarf Pattern
This is crocheted with short rows. The scarf measures 5 inches by 56 inches. There are detailed instructions and photos for the scarf, tree and star.
This piece is a lot of fun to make and wear. It's so soft looking, don't be surprised if people stop you and ask to feel it!
The Winter Gift Bag Pattern
This is crocheted as a rectangle (the bottom sewn on as a separate piece). There is a chart as well as detailed instructions on how to crochet the bag. There are detailed instructions on making the cute icicle edging, handles and tree appliques.
This gift bag will look absolutely adorable under the Christmas tree. Or maybe you'll use it as an adorable tote?
 Winter Hat and Scarf Gift Set – In the Store
The pattern is now available in the store. Order now and download the pattern right from the link on your receipt. See more photos on the Winter Hat and Scarf Gift Set page in the store.