Twins Face Off Crochet Design Challenge and Giveaway with Shangri La by Bijou Basin Ranch
Bijou Basin Ranch is sponsoring this month's challenge with their ubber soft and oh so fabulous Shangri La Lace yarn. We're partnering once again with Ewe and Me to display our finished projects (when we get them done in a couple of weeks).

Next week we will announce what cateogry of item we will crochet using Shangri La lace weight yarn (400 yrds / 2 oz. hank). We'll also share sneak peeks at what we're working on. The week following that we will ask you to vote on the two designs and open up the giveaway!
1st place to wins 1 skein of Shangri La and the 2 patterns;
2nd place to win the two patterns.
A big thank you to Bijou Basin Ranch for sponsoring this Twins Face Off! We are trilled to be using this fabulous yarn in our challenge. Neither of us have used lace weight yarn, so it should be really fun.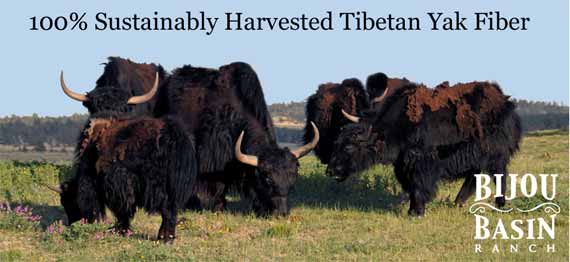 When I mentioned this challange to some friends, they asked what a Yak was. So I snagged the photo above from Bijou Basin Ranch's website. Shangri La, the yarn we are using in the challenge is 50% Yak Down and 50% Mulberry Silk. It's heavenly!