Tips and Tricks for Crocheting a Cover for a Bean Bag Chair
Crocheting a cozy to cover a bean bag chair is easier than it looks. It's similar to making a cup cozy…just a bit larger! Here is some designer feedback with tips and tricks to help you as you crochet your own bean bag creation.
#1 – Make it a tight fit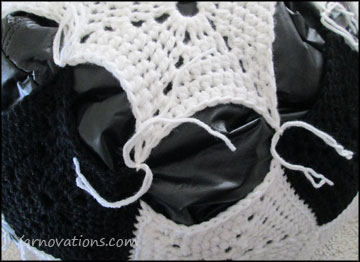 The first and foremost important tip: make the cozy smaller than the bean bag chair. You want it to be a really tight fit, as in…super tight.
"I didn't think there was any way the bean bag would fit into the cozy."
– quote from Deborah
Yarn stretches. Which is helpful when stuffing the cozy. But not so good after people have played with and sat on the bean bag chair. After lots of use, the yarn will stretch to the point that the cozy may sag. To prevent future issues of sagging, make sure the cozy is a tight fit around the bean bag.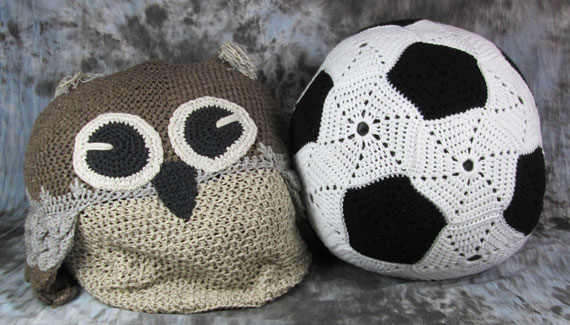 The Owl Bean Bag, pictured above left, is one of our first bean bag projects. Several nieces came over for a visit one afternoon…and after only a few hours of play, the yarn on the owl was loose and sagging…a lot! Needless to say, we corrected the issue and every bean bag project we work on has a much tighter fit (as seen in the Soccer Ball on the right)!
#2 Tie it up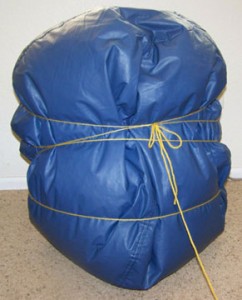 Bean bags by nature are malleable; they reshape with a little bit of pressure. This makes them more tricky to stuff into a cozy. So, we recommend that you tie up your bean bag with yarn into a tall cylinder type shape. After it's stuffed into the cozy, remove the ties so the bean bag chair is free to reshape when people sit on it.
Use yarn in a contrasting color and tie a bow with long tails. This will make it easier to locate the tied yarn through the cozy so you can pull it out.
#3 You only need a few rounds to close it up
For some bean bag designs, you'll stuff the bean bag into a partially finished cozy, then crochet a few rounds to close it up locking the bean bag inside.
"I didn't think the pattern had enough rounds left to close up the cozy."
– quote by Dana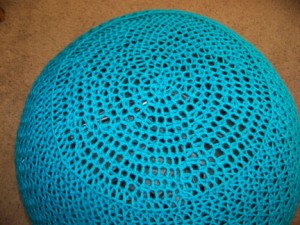 When the bean bag is stuffed into the cozy, there will still be quite a bit of the bean bag left uncovered. Surprisingly, you won't need very many rounds to finish off the cozy. As tip #1 says…you want a tight fit.
Work a decrease round, then tug on the cozy to stretch the yarn as you stuff the bean bag into the cozy. Crochet the next decrease round, tug and stuff. Repeat a few more times. The last step is to grab each loop in the last round and cinch closed with yarn.
Bean Bag Chair Crochet Patterns
We have several Bean Bag designs. Here are a couple of fun sets: