Color Tips
One of the simplest and easiest ways to adjust a knit or crochet pattern is to change the color. There are several things to keep in mind before changing the color.
Substitute Yarn. Use the colors suggested by the designer. If the exact yarn is not available, be sure to substitute with the same weight yarn. If the pattern calls for a light weight yarn (3), try to find another light weight yarn. Substituting with a medium could significantly change the size of the finished project. In the case of beanies pictured above, if the yarn used is larger / heavier than suggested, the hats may end up too big. If gauge is not important, feel free to substitute with any weight and adjust the crochet hook accordingly.
Fit a Theme. You might want to change colors to fit a theme. Sometimes you want to change the color to a person's favorite color or you want to match the colors of a person's room, like a nursery. Notice where the darker colors are used. If you like the original pattern, try to keep the darker colors where the darker colors are used. Keep in mind, some patterns will look fabulous in a different order as well. The turtles pictured above show the same pattern with various color schemes. I went for traditional, then attempted to make one similar to the blue and white porcelain of the 14th century.
Notice Stitch Patterns. Some patterns don't look good in all color schemes. Sometimes a solid color will look better than a variegated color and vice versa. Sometimes the designer chose odd colors but the pattern is beautiful. Look at the stitch work itself and decide if it's something you like. Houndstooth is often done in black and white, but it would look equally stunning in various colors. I did see a project in lavender and grey. Because the colors were so close, the houndstooth pattern was almost invisible. The stitch work is great, but more contrasting colors would be better.
Go Whimsical. Realism has its place, but sometimes fun and fanciful color schemes can work just as well.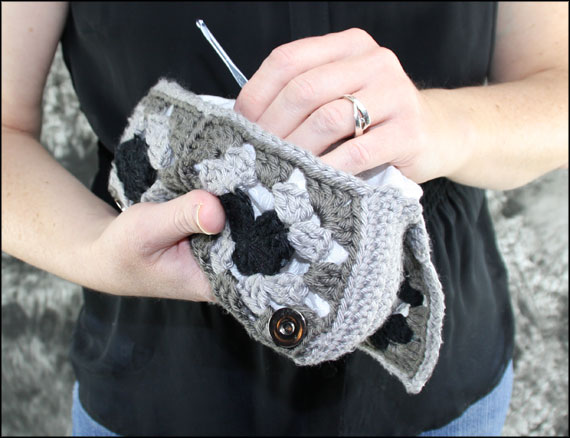 Go Tonal. Working in tones can make for striking projects. Work from light to dark or dark to light, or vary the tones for more stunning transitions.
Notice the sheen of the yarn. Some yarn has a matte look while others are shiny. This can impact the appearance of the final project as well. Would a doll look better shiny or dull? Perhaps the doll would look better in matte colors while the dress is shiny. This hiking buddy pictured above was done in shiny Caron Simply Soft.
Frog it! Sometimes one color doesn't look as good as we'd like. It might be worth ripping out and trying another color.