The Pasta Challenge
A small group of us meet regularly to chat, sip coffee and crochet or knit. At one of our meetings we got a crazy idea to have a Pasta Challenge. We wanted to see who could come up with the best  hand crafted project that incorporated pasta!
The rules for the challenge weren't well defined…so the projects varied greatly. No winner was selected this go around…but there will be more quirky and crazy challenges ahead.
Unfortunately, I was unable to get a collective photo of them all…so here is the reveal, one item at a time:
Glitzy Necklace, by Alice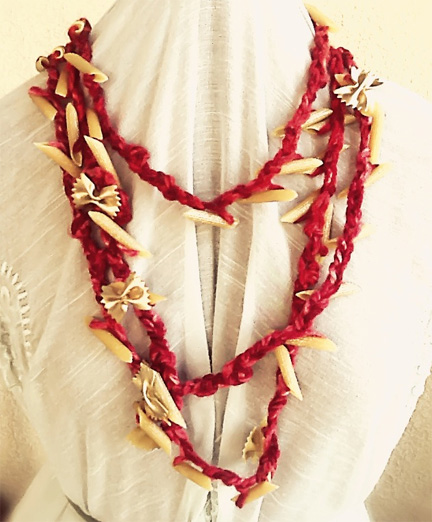 This glittery piece includes spray painted noodles! That little detail may not show up well in the photo…but it did have sparkle in person. Some noodles are painted gold and some with glitter making this one glitzy necklace.
Colorful Jar Cozy, by Deborah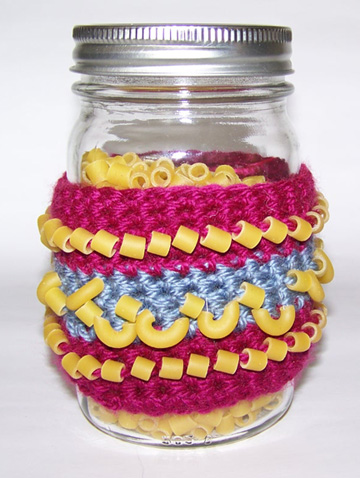 This mason jar cozy illustrates two ways to attach "beads" to a crochet project. The little pasta is attached using a beaded crochet technique. The elbow noodles are attached with thread and needle. A vivid example of how to attach beads.
Adorned Purse, by Lorien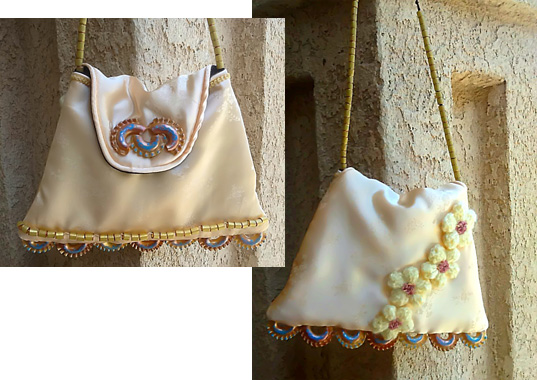 Pasta adorns this cloth purse with large painted elements and in the little details, too. It's difficult to see in these photos, but there are small star shaped pastas lining the opening of the purse and in the center of the flowers.
Beaded Broomstick and Shell Bag, by Dana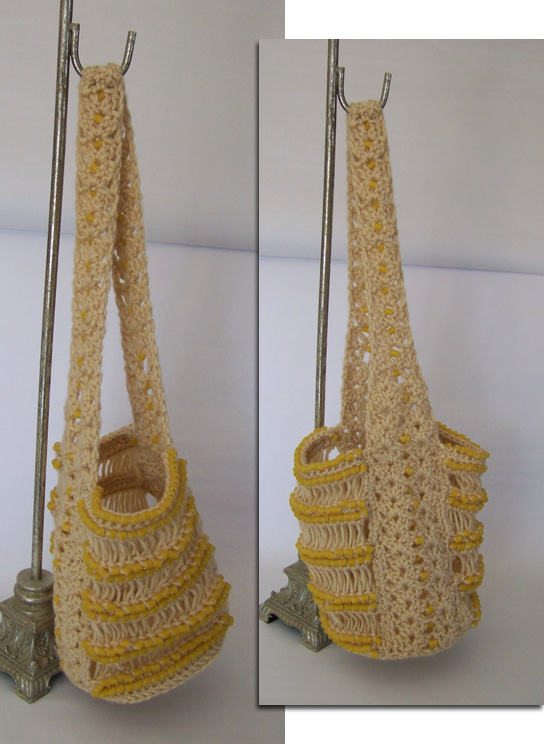 This bag illustrates beaded crochet with three different crochet stitches including: broomstick lace, shell stitch and single crochet. This bag was created with two handle pieces, two broomstick lace panels and joined with a round base.
The challenge was unusual, but a lot of fun. Stay tuned for the next wacky challenge coming soon!