Chocolate Peppermint Cookie Recipe with Valentine Jar Cozy
The heart shaped chocolate peppermint cookie recipe is so delicious…you may need to make a double batch! Wrap the mason jar with this Valentine cup cozy and you've got yourself a sweet minty gift!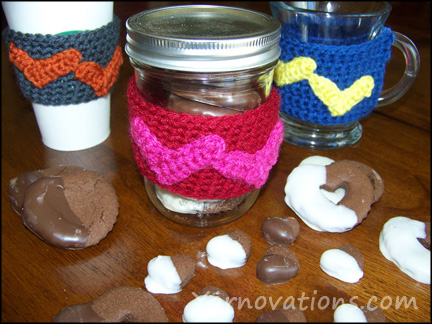 We used a Linzer cookie cutter  (you know, the cutter that makes jelly filled cookies). Check the seasonal/holiday aisle at your local craft store. Or, if you're seeing this after Valentine's Day, you may need to check the cake decorating aisle.
Fortunately or unfortunately, my hubby doesn't like peppermint. So, this was a happy heart day to me…and my sister…and my parents…and my neighbors. Everyone else seems to like peppermint.
Let's start with the cookie recipe. It needs to bake and cool and stuff.
Chocolate Peppermint Cookie Recipe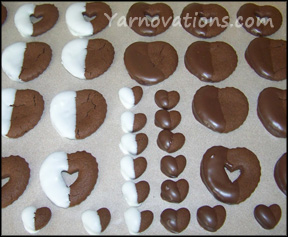 This chocolate peppermint cookie recipe makes crisy and crunchy cookies. They don't raise too much in the baking which allows them to keep their shape. I found that the cookies with shapes cut out of the center hold their heart shape better than the ones that are solid hearts.
And if you do cut out a heart shape from the middle…you can bake those mini hearts for bite size minty treats!
INGREDIENTS & SUPPLIES:
Peppermint Chocolate Coookie:
1 ¼ cup flour
½ cup unsweetened cocoa powder
½ teaspoon baking soda
¼ teaspoon baking powder
¼ teaspoon salt
6 Tablespoons butter softened
1 cup sugar
1 egg
¾ teaspoons peppermint extract
1 Wilton Linzer Cookie Cutter
Mint Chocolate for Dipping
12 oz. chocolate – white or chocolate flavor
3/8 teaspoon peppermint extract
Wax paper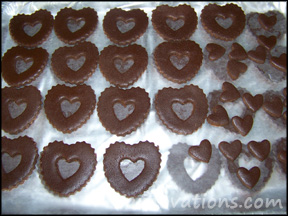 DIRECTIONS:
Wisk together flour, cocoa, baking powder, baking soda and salt. Set aside.
In electric mixer, beat butter, egg, sugar and ¾ teaspoon peppermint extract together.
Add flour mixture and beat until well blended. Dough will be crumbly.
Kneed dough on counter top. Roll out dough to about 1/8" thickness. Cut out cookie shapes. If shapes stick to counter, lift with a spatula. Lay on cookie sheet (separate with wax paper if needed) and refrigerate for 2 hours.
Bake on ungreased cookie sheet at 350° for 10 minutes. Cool on a wire rack.
Melt chocolate in microwave at 30 second increments until it can be stirred smooth. Do not over cook.
Stir in 3/8 teaspoon peppermint extract.
Dip one side of the cookie into chocolate. Lay on wax paper to dry and harden.
Store in mason jars!
Double Heart Cozy for Jar of Chocolate Peppermint Cookies
Crochet your special Valentine a whimsical jar cozy. This fits a Starbucks coffee cup, too, so he (or she) will be able to carry your love with him (or her) on the go!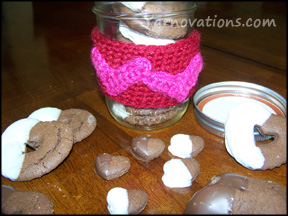 The double heart cozy is quite simple and whips up in a jiffy. It's designed to fit a pint size mason jar…which is the perfect size for storing chocolate peppermint cookies! Yum.
Stash buster! This is a great project to make with your remnants. We are using Vanna's Choice. This line has a lot of great complimentary colors from which to choose.
Skill Level: Easy
Stitches Used: chain, single crochet
Techniques Used: increase, crochet in the round
Materials:
Vanna's Choice Medium Worsted (4)
CRANBERRY, RASPBERRY
Crochet Hook: H and F
Mason Jar
COZY INSTRUCTIONS:
Cranberry
Hook: H
Ch 34, join with a sl st.
Rnd 1-10: Sc around. (34)
Join with a sl st. Cut yarn; weave in end.
PAIRED HEARTS INSTRUCTIONS:
Raspberry
Hook: F
Ch 7
Row 1:Sc in 2nd ch from hook. 4 sc, sc inc. (7)
Row 2:Ch 1, turn. Sc inc, sc across. (8)
Row 3:Ch 5, turn. Sc in 2nd ch from hook. 3 sc. 3 sl st in Row 2. (7)
Row 4:Turn. Skip sl sts. 3 sc, sl st. (4) (First Heart Made)
Row 5:Ch 8, turn.
Rows 6-9:Repeat Rows 1-4
Finish off leaving a long tail for sewing.
Pin then sew hearts to cozy.
More Cozies in Store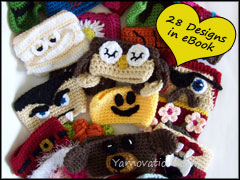 Love this heart cozy? There are more seasonal, holiday and just for fun cozies in the store in our Crochet Cup Cozy eBook. We've created an entire collection with 28 designs one ebook.
Looking for the cup and mug version? They're in the ebook.
Each design in the ebook has instructions to fit Mugs, Cups and Mason Jars. Every design has a delicious recipe or fun craft.
All 3 hearts pictured at the beginning of this post are in this ebook! AND the ebook includes 4 new designs – Dracula, Vampire, Mummy and Blue Jeans.

Read more about the set:
Blog: Coffee Cup Cozy Collection
Store: Coffee Cup Cozy Collection