Crochet Bunny and Easter Snacks for Kids
A crochet bunny is the perfect accent for a mason jar full of Easter snacks for kids.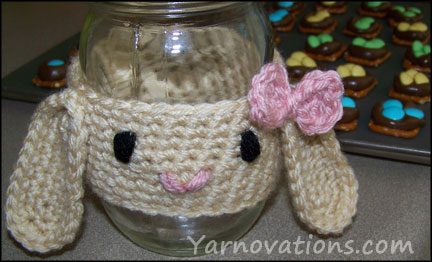 It's a strange phenomenon that the Easter bunny lays eggs. But who are we to question such a thing. We're having fun with it and the kids will too. They'll have a blast making and eating these chocolate snacks.
Let's start with the Easter Snacks for kids because the chocolate will need time to cool and harden before it can be placed in the mason jar for storage (assuming you and the kids don't eat them all first!).
Easter Snacks for Kids
If you're looking for fun Easter snacks for kids…this is an easy and delicious one! It's great for kids of any age.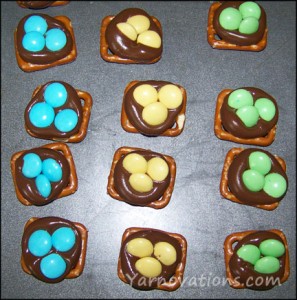 So, we present to you…Easter eggs in a nest. It looks a bit like a bird's nest. In fact, both birds and rabbits have their young in a nest. Rabbits build their nests in the dirt. The chocolate makes the eggs look like they are nestled in the dirt…so, we're calling this snack an Easter Bunny Nest.
Ingredients & Supplies:
1 bag rectangular pretzels (Snyder's of Hanover Butter Snaps)
1 bag Hershey's Kisses
1 bag M&M's – Easter colors
1 cookie sheet
Directions:
Preheat oven to 175°.
Spread pretzels flat on cookie sheet (about 50 of them).
Unwrap and place one kiss centered on each pretzel.
Bake for 7 minutes to soften Kisses.
Immediately press 1 to 3 M&M's into each Kiss to form nests.
Allow to cool and harden for a couple of hours.
Note: Young children will only be able to place 1 M&M in the nest. Older children can place 2 or more in each nest.
FYI: I Googled "Easter Snack" and found this snack on Jamy Fisher's website. Thanks, Jamy for sharing!
Crochet Bunny for Easter
For Easter (and bunny lovers everywhere) we have a crochet bunny mason jar cover. This is adorable as a cup cozy, too. We're showcasing it as a cute (and delicious) gift idea for the holidays. One that the kids can get involved with as well.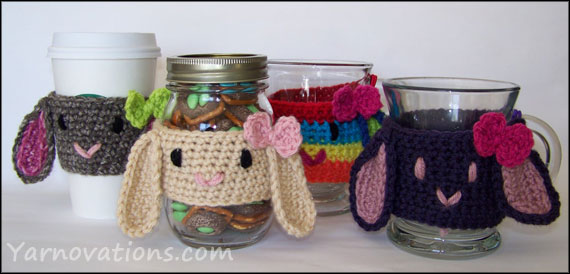 This is a great stash buster. We've used Vanna's Choice. The colors can be as soft and neutral as a real bunny or as bright and colorful as your heart desires.
Skill Level: Easy
Stitches Used: Chain, slip stitch, single crochet, double crochet
Techniques Used: Crochet in Rows & Rounds, Increase
Crochet Bunny Supplies:

Vanna's Choice Yarn (Worsted Weight – 4)
BEIGE, BLACK, PINK
(Brown Bunny: Taupe Mist, Rose Mist, Radiant Lime, Black)
(Purple Bunny: Purple, Dusty Rose, Raspberry)
(Rainbow Bunny: Scarlet, Radiant Lime, Radiant Yellow, Radiant Orange, Colonial Blue, Aqua, Raspberry, Black)
Crochet Hook: H / 8 / 5.00mm
Yarn Needle for Sewing
1 Mason Jar
Crochet Bunny Instructions
Beige
Ch 34, join with a sl st.
Rnd 1-9: Sc around. (34)
Join with a sl st. Cut yarn; weave in end.
EAR INSTRUCTIONS (make 2)
Beige
Ch 9
Rnd 1: Sc in 2nd ch from hook. 6 sc. Work 3 sc in last st. Turn to other side of foundation ch. 6 sc, sc inc in last st. (18)
Rnd 2: *Sc inc, 8 sc* twice. (20)
Rnd 3: *2 sc inc, 8 sc* twice. (24)
Rnd 4: 2 sc inc, 3 sc, 2 sl st. Leave remaining sts unworked. (9)
Finish off leaving a long tail for sewing.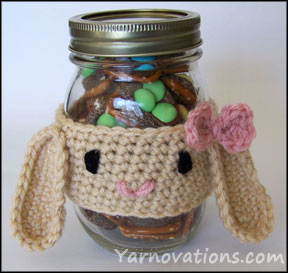 BOW INSTRUCTIONS
Pink
Ch 9
Rnd 1: Dc in 4th ch from hook. Sc, sl st, sc, dc, ch 2, sl st in last st. Turn to other side of foundation ch. Ch 2, dc, sc, sl st, sc, dc, ch 2, sl st into last st. (12)
Finish off leaving a long tail for sewing.
ASSEMBLY INSTRUCTIONS:
Embroider "V" shaped Nose across Rnd 4 with Pink.
Embroider two Eyes across Rnds 6 & 7 with Black.
Sew Ears 2 sts away from each eye on Rnd 9. Fold ear a bit at top if desired.
Sew Bow to top of Ear as desired.
More Cozies in Store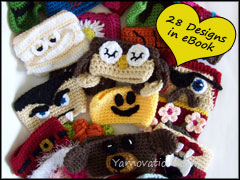 Love this bunny cozy? There are more seasonal, holiday and just for fun cozies in the store in our Crochet Cup Cozy eBook. We've created an entire collection with 28 designs one ebook.
Looking for the cup and mug version? They're in the ebook.
Each design in the ebook has instructions to fit Mugs, Cups and Mason Jars. Every design has a delicious recipe or fun craft.
All 3 bunnies pictured at the beginning of this post are in this ebook! AND the ebook includes 4 new designs – Dracula, Vampire, Mummy and Blue Jeans.

Read more about the set:
Blog: Coffee Cup Cozy Collection
Store: Coffee Cup Cozy Collection