Newborn Baseball Outfit
A new fan is born! This newborn baseball outfit is a beautiful photo prop. It makes me want to break out some peanuts and cracker jacks!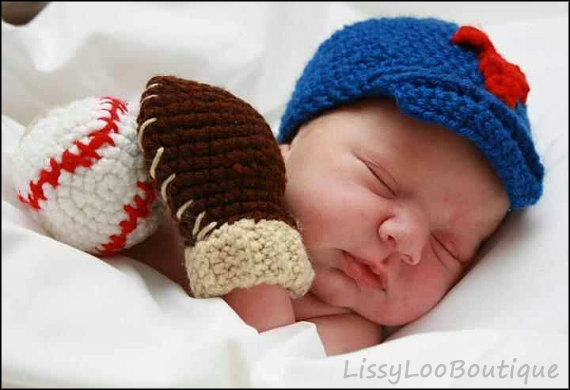 Katrina Fox crocheted this for her grandson. We love how it turned
out. And the photo is absolutely darling.
Newborn Baseball Outfit – Available For Purchase
Katrina would love to hook up more new fans with this cute Newborn
Baseball Outfit. It's available a couple of ways:
Crocheted Set
Buy the crocheted set (hat and mitts) at LissyLooBoutique on Etsy.
Crochet Pattern Only
Buy the pattern "Li'l Slugger" (hat, mitts, bib) in our store and crochet the set yourself.
A special thank you to Katrina for sharing this lovely photo.