Leprechaun Hat Jar Cozy and Green Food for St. Patrick's Day
For St. Patrick's Day, we've created a Leprechaun hat jar cozy.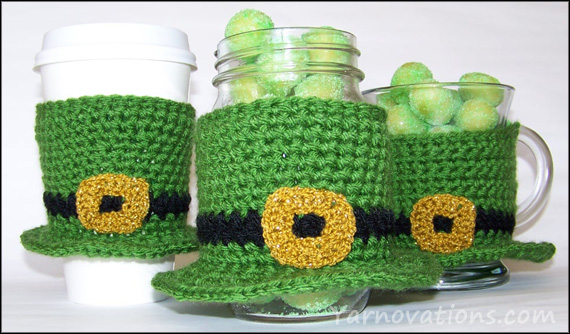 This jar is the perfect way to gift green foods to your friends and family for the holiday! Our green food of choice…frozen lime flavored grapes. We'd call them sour grapes…but you might get the wrong idea. This is better described as a healthy version of Sour Patch Kids candy.
This hat design is quite versatile. The cozy itself fits a to-go coffee cup. And if you change the colors (to black, for example), this would be perfect for President's Day or any special occasion where a top hat is needed.
Let's start with the green food because it needs time to freeze.
Green Food – Sweet & Sour Grapes
Any green food would be cute stored in this festive Leprechaun hat jar, but we've got a fun, healthy and super easy recipe for you…Sweet and Sour Grapes. The green grapes are the sweet part. The lime Jello is the sour part. They are surprisingly delicious!
Ingredients and Supplies: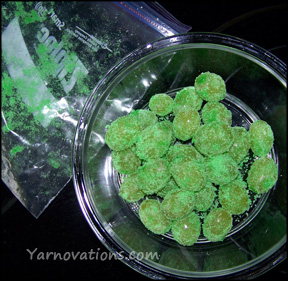 1 box lime jello
2 lbs. green grapes
Resealable bag – gallon size
2 Pint size mason jars
Directions:
Pour lime jello powder into resealable bag.
Wash your hands.
Wash the grapes.
Pluck grapes off of vine. Place in bag while still wet.
Shake bag to coat grapes with jello.
Place grapes in mason jars and freeze for a couple of hours.
Serve frozen.
Store in freezer or refrigerator depending on how cold you like them.
Leprechaun Hat Jar Cozy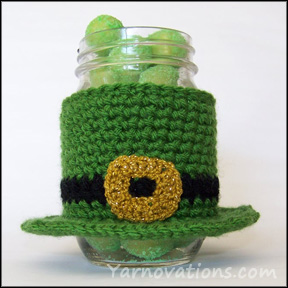 This crochet Leprechaun hat is also easy to make. And it whips up in a couple of hours. This top hat design is shown here in green…but with a simple color change, this cozy would fit any formal or patriotic occasion (a red, white and blue would be great for July 4th in the US – just sayin').
Skill Level: Easy
Stitches Used: Chain, Slip Stitch, Single Crochet, Double Crochet
Techniques Used: Crochet in the Round, Increase
This is a great stash buster. We've used Lion Brand yarns. The Kelly Green and Black are Vanna's Choice. The Gold is Vanna's Glamour. We love the way the Gold sparkles next to the Kelly Green.
Leprechaun Hat Supplies:
Vanna's Choice Yarn:
KELLY GREEN, BLACK
Vanna's Glamour:
GOLD
Crochet Hook: H, C
Yarn Needle for Sewing
Pint size mason jar
Leprechaun Hat Cozy Instructions:
Kelly Green
Hook: H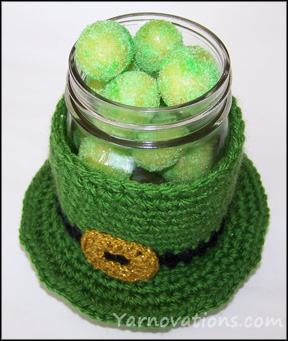 Ch 34. Join with a sl st.
Rnd 1-7: Sc around. (34)
Rnd 8: 33 sc. Drop Kelly Green and change color to Black with a sl st. (34)
Rnd 9: Ch 2, dc around. Join with a sl st. (34)
Finish off Black and weave in ends.
Pick up Kelly Green.
Rnd 10: Ch 1. Sc around. (34)
Rnd 11: 33 sc, sl st. (34)
Rnd 12: Working in the front loops only, sc around. (34)
Rnd 13: *Sc inc, sc* around. (51)
Rnd 14: *Sc inc, 2 sc* around. (68)
Rnd 15: *4 sc, sc inc* around. End with 2 sc, sl st. (82)
Finish off and weave in ends.
BUCKLE INSTRUCTIONS
Gold
Hook: C
Ch 18
Row 1: Dc in 3rd ch from hook. 2 dc, dc inc, ch 2, * 3 dc, dc inc, ch 1* 3 times. Join with a sl st. (16)
Finish off leaving a long tail for sewing.
Pin then sew belt buckle in a square over the Black "ribbon". Weave in ends.
More Cozies in Store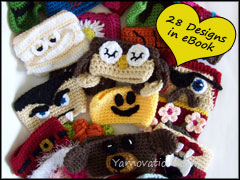 Love this Leprechaun cozy? There are more seasonal, holiday and just for fun cozies in the store in our Crochet Cup Cozy eBook. We've created an entire collection with 28 designs one ebook.
Looking for the cup and mug version? They're in the ebook.
Each design in the ebook has instructions to fit Mugs, Cups and Mason Jars. Every design has a delicious recipe or fun craft.
All 3 Leprechauns pictured at the beginning of this post are in this ebook! AND the ebook includes 4 new designs – Dracula, Vampire, Mummy and Blue Jeans.

Read more about the set:
Blog: Coffee Cup Cozy Collection
Store: Coffee Cup Cozy Collection