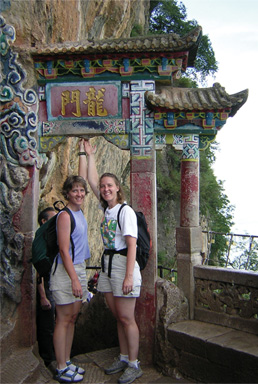 Happy Chinese New Year
Happy Chinese New Year! This festive holiday has a special place in our hearts because Yarnovator, Deborah, lived in China for five years.
Deborah was a 5th grade teacher at an international school in Kunming, China. While there she enjoyed her first hand experiences of Chinese New Years well wishes, gift giving, loud celebrations with fire crackers, beautiful displays of flowers and fancy red and gold signs and lanterns.
Though not Chinese New Year, we are pictured right at the Dragons Gate. We are touching the top of the gate for luck. Deborah is on the left and I, Dana, am on the right.
Chinese New Years follows the lunar calendar so the date changes each year. In 2013, Chinese New Year is February 10. This is the year of the snake.
Chinese New Year – Plum Blossom Cozy
The plum blossom is a beautiful flower from the Chinese plum tree. It is in bloom during the Chinese New Year. That was our inspiration for our jar cozy. Below is the pattern for the jar cozy on the left crocheted in White with Soft Pink blossoms.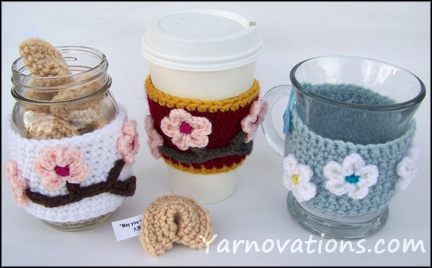 This is another great stash buster. The cozies are crocheted using Vanna's Choice. Vanna's color selection is great. The white cozy looks simple yet beautiful. The red cozy captures the vibrant colors found at Chinese New Year's decorations.
Chinese Cozy Supplies:
Vanna's Choice Yarn:
WHITE, CHOCOLATE, RASPBERRY, SOFT PINK
Chinese Option: Cranberry, Mustard, Taupe, Raspberry Soft Pink
Straight Flower Option: Silver Blue, White, Raspberry, Aqua, Radiant Yellow, Radiant Orange, Eggplant
Crochet Hook: H, D
Yarn Needle for Sewing
Pint Size Mason Jar
NEW YEARS COZY INSTRUCTIONS: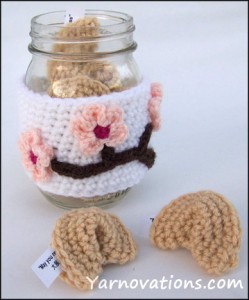 Jar Cozy Instructions :
White
Hook: H
Ch 34, join with a sl st.
Rnd 1-12: Sc around. (34)
Join with a sl st. Cut yarn; weave in end.
Plum Blossom Flower Instructions:
(make 3)

Raspberry
Hook: D
Ch 2
Rnd 1: 5 sc in 2nd ch from hook. (5)
Join and change color to Soft Pink with a sl st.
Rnd 2: *Ch 2, 2 dc in same st, ch 2, sl st into same st. Sl st into next st* 5 times.
Finish off leaving a long tail for sewing, weave in all other ends.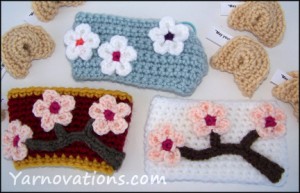 Branch Instructions:
Chocolate
Hook: D
Ch 14
Row 1: Sl st in 2nd ch from hook. 4 sl st. Ch 9, sl st in 2nd ch from hook, 3 sl st. Ch 10, sl st in 2nd ch from hook. Working back to start of ch, 14 sl st, 5 sc, 3 hdc.
Finish off leaving a long tail for sewing, weave in all other ends.
Assembly Instructions:
Pin then sew branch to cozy.
Sew plum blossoms to cozy. Sew down the middle of the flower to get a nice 3D effect.
Weave in ends.
Chinese New Year – Fortune Cookie?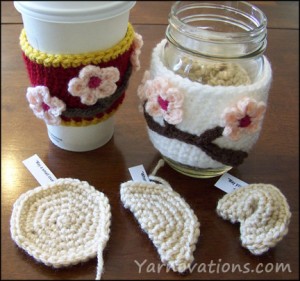 We're mixing our cultures with this jar cozy. The traditional Chinese New Years gift would be a red envelope of money (i.e. $8 for luck…or increments of $8).
But in the USA, when many people think of Chinese good fortune, they think of forutne cookies. So, we're crocheting some fortune cookies and stuffing them with Chinese New Years wishes.
To further mix our traditions, we'll put 8 fortune cookies in the mason jar! If you pass these around at the dinner table and there are some left over…that's a sign of abundance…a good sign for the coming year!
Fortune Cookie Supplies:
Vanna's Choice Yarn:
BEIGE
Crochet Hook: H
Printed fortunes (see options below)
Yarn Neeedle for Sewing
Crochet Fortune Cookie Instructions: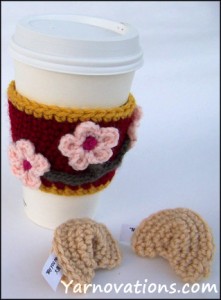 Beige
Hook: H
Ch 2
Rnd 1: 6 sc in 2nd ch from hook. (6)
Rnd 2: Sc inc around. (12)
Rnd 3: *Sc, sc inc* around. (18)
Rnd 4: *2 sc, sc inc* around. (24)
Rnd 5: *3 sc, sc inc* around. (30)
Rnd 6: *4 sc, sc inc* around. (36)
Finish off leaving a long tail for sewing.
Fold circle in half and whip stitch a little more than half closed…leave a hole so you can stuff the cookie with a fortune.
Fold the two ends together and whip stitch in the folded position.

Chinese New Year Wishes:
In addition to wishing friends and family a Happy New Year, below are some additional wishes for luck and prosperity. These make great "fortunes" for the crocheted fortune cookies above. Sayings are from Wikipedia 2/1/2013 and Welch, Patricia Bjaaland, p. 22
"May your wealth [gold and jade] come to fill a hall"
金玉滿堂Jīnyùmǎntáng
"May you realize your ambitions"
大展鴻圖Dàzhǎnhóngtú
"Greet the New Year and encounter happiness"
迎春接福Yíngchúnjiēfú
"May all your wishes be fulfilled"
萬事如意Wànshìrúyì
"May your happiness be without limit"
吉慶有餘Jíqìngyǒuyú
"May a small investment bring ten-thousandfold profits"
一本萬利Yīběnwànlì
"May your happiness and longevity be complete"
福壽雙全Fúshòushuāngquán
"When wealth is acquired, precious objects follow"
招財進寶Zhāocáijìnbǎo
A Glimpse into China
Just for fun, we thought we would share a couple of photos we took while in China. Deborah was an excellent tour guide and showed me several National Wonders of China.
Below left is the Great Wall of China. To the right are life size Terracotta Warriors.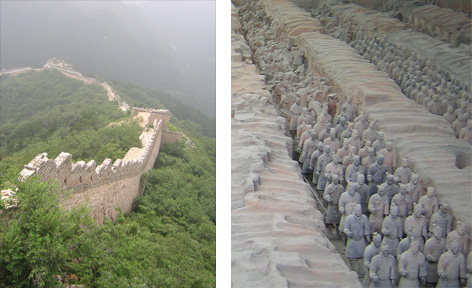 Near Kunming, China is a lovely place called the Stone Forest. This is a beautiful place for hiking with tall pillars of rock and many beautiful formations.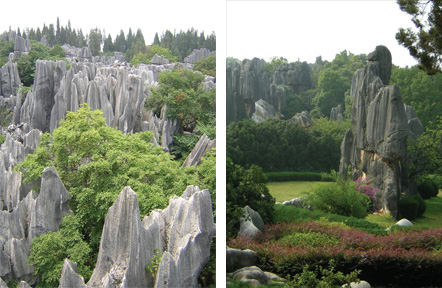 Wishing you a happy and prosperous Chinese New Year!
More Cozies in Store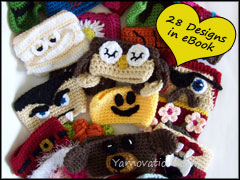 Love this plum blossom cozy? There are more seasonal, holiday and just for fun cozies in the store in our Crochet Cup Cozy eBook. We've created an entire collection with 28 designs one ebook.
Looking for the cup and mug version? They're in the ebook.
Each design in the ebook has instructions to fit Mugs, Cups and Mason Jars. Every design has a delicious recipe or fun craft.
All 3 plum blossoms pictured at the beginning of this post are in this ebook! AND the ebook includes 4 new designs – Dracula, Vampire, Mummy and Blue Jeans.

Read more about the set:
Blog: Coffee Cup Cozy Collection
Store: Coffee Cup Cozy Collection