Chocolate Covered Peanut Butter Footballs Recipe
My husband and I are getting into the big game this year with chocolate covered peanut butter footballs. Truth be told, my dad is the only real football fan in the family. Yet we all come together to celebrate the championship game and to be entertained by the year's best commercials.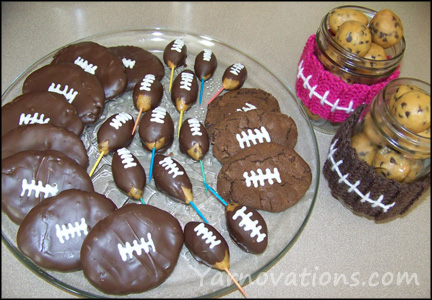 Video Alert: We created a short how-to video for these chocolate covered peanut butter footballs. See the embedded video below.
As I mention in the video, creating footballs is rather time consuming, so I'll be bringing a mix of plain peanut butter balls and chocolate covered footballs. In the picture above you can see the peanut butter balls in the mason jars cozied with footballs!
Here are some links to these treats:
Chocolate Covered Peanut Butter Balls Video
We created a video on Google Plus in a Hangout On Air. We had fun with our guest panel. They recommended that bacon be added as a secret ingredient to these peanut butter treats. See what my husband thinks of the idea!
Watch the how-to video on YouTube.
Enjoy these treats…and may the best team win!