Starry Night Yarn Craft for Kids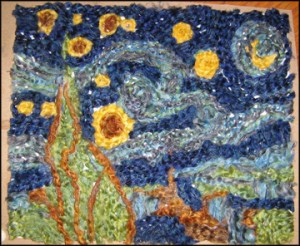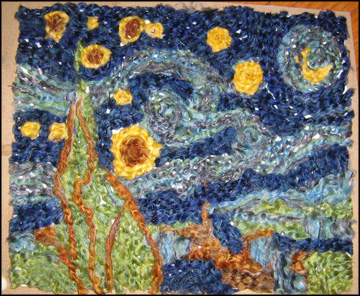 My sister and I are considering teaching a break-out session for a small group of kids and naturally we are discussing yarn crafts. Is there any other other type of craft? Not in our humble opinions.
There will be four one-hour sessions…which isn't a lot of time. So we have decided that crochet is out. We are considering other crafts using yarn. The first and most interesting possibility we discussed was recreating Starry Night in yarn.
Read further for:
Step by Step photos of Deborah's creation.
Links to the coloring page used as the base.
Link to the website that provided some inspiration.
Tips for creating your own Starry night.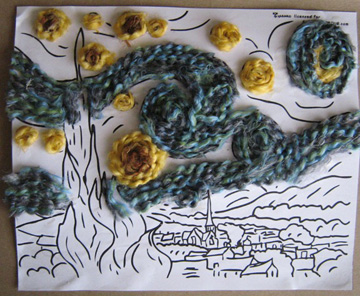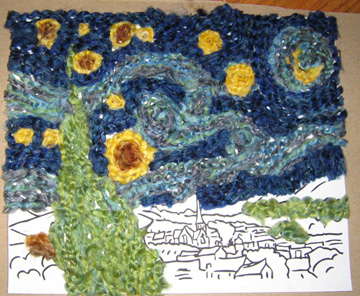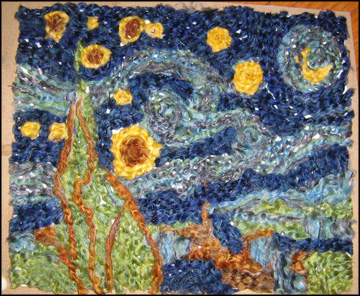 Starry Night Yarn Craft for Kids – Coloring Page
The coloring page makes a great backdrop for creating your own Starry Night in yarn. We did a Google Search focused on images of Starry Night coloring pages. We used a page from SuperColoring.com. Feel free to browse the internet for one that inspires you.
Starry Night Yarn Craft for Kids – Our Inspiration
This project was inspired by a very talented gal by the name of Regina. You must check out the work she has done with kids. Unfortunately she doesn't appear to be updating her site. But we can still be inspired by her previous work!
Starry Night Yarn Craft for Kids – Some Tips and Thoughts
I spoke with Deborah and asked her for her thoughts. Here are a few:
Spread glue in small portions of the coloring page so you can work in small portions a little at a time.
Bulky yarn makes it easier to cover more space more quickly.
Beware of using yarn that separates easily. It will stick to your fingers and be more frustrating to work with. Deborah used Lion Brand Homespun and found it was tricky to work with as she had more and more glue stuck to her fingers. The yarn separated too easily.
Have a wide range of colors available. Deborah wished she had more colors for her project.
This particular picture actually took quite a bit of time to complete. If time is an issue, you will probably want to choose a more simple coloring page.
So, after completing the prototype Deborah decided that this project won't make it into the breakout session. I guess it's back to the drawing board…so to speak.