Superbowl Snack – Football Cookies
Need a Superbowl Snack? Football cookies are the perfect treat for the big game! These chocolate chocolate chip cookies are dunked in chocolate and accented with white chocolate threads. They are a chocoholics delight.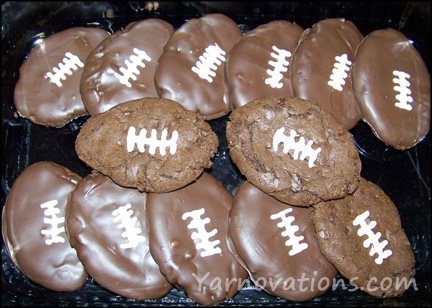 This is the same recipe as the Valentine's cookies, but without the peppermint. And the shape is different, too…obviously. I suppose you could add some hearts to the cookie platter to let everyone know you heart football! =)
If you like peppermint, I highly recommend that you follow the directions for the Chocolate Peppermint Cookie Recipe and Heart Cozy we blogged about for Valentine's day. But if you don't like peppermint…like my husband…than the following version of the recipe is for you.
Football Cookie Recipe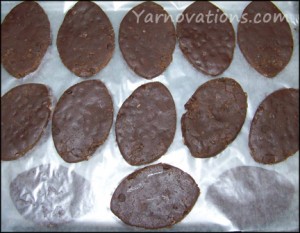 Ingredients and Supplies:
1 ¼ cup flour
½ cup unsweetened cocoa powder
½ teaspoon baking soda
¼ teaspoon baking powder
¼ teaspoon salt
6 Tablespoons butter softened
1 cup sugar
1 egg
1/4 cup mini chocolate chips
1 Wilton Football Cookie Cutter
8 oz. melting chocolate – chocolate
2 oz. melting chocolate – white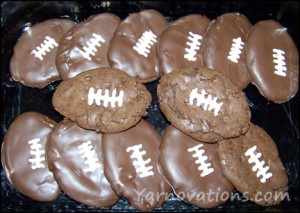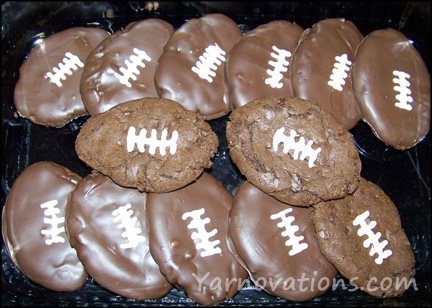 Directions:
Wisk together flour, cocoa, baking powder, baking soda and salt. Set aside.
In electric mixer, beat butter, sugar and egg together.
Add flour mixture and beat until well blended.
Add mini chocolate chips and mix until well blended. Dough will be crumbly.
Kneed dough on counter top. Roll out dough to about 1/8" thickness. Cut out cookie shapes. If shapes stick to counter, lift with a spatula. Lay on cookie sheet (separate with wax paper if needed) and refrigerate for 2 hours.
Bake on ungreased cookie sheet at 350° for 10 minutes. Cool on a wire rack.
Melt 8 oz. chocolate in microwave at 30 second increments until it can be stirred smooth. Do not over cook.
Dunk the cookie into chocolate and remove and strain with fork. Lay on wax paper to dry and harden.
Melt white chocolate in microwave at 30 second increments until it can be stirred smooth. Do not over cook.
Pour white chocolate into disposable pastry bag or use one corner of a sandwich bag. Twist to seal white chocolate in corner. Snip a tiny hole in the corner of the bag. Draw football threads on cookies. Though footballs have 8 threads…we drew only 5. NFL footballs do not have stripes on the end like college and high school balls do.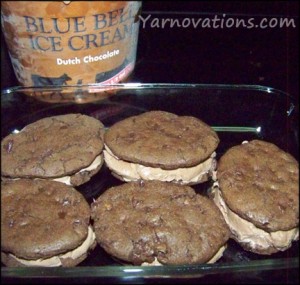 Superbowl Snack – Three Variations for Football Cookies
These cookies are soo much fun. And they're versatile, too. We prepared them three different ways. Pick the one that's right for your party.
Bake the cookies and only add white chocolate threads.
Dunk the cookies in chocolate after baking and add white chocolate threads.
Create ice cream sandwiches with chocolate ice cream and add white chocolate threads.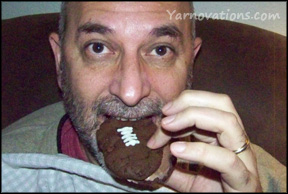 To my surprise, my sweetheart requested chocolate ice cream in his chocolate chocolate chip cookies! I thought I was the chocoholic in the family!
As you can see…the ice cream sandwiches don't have the extra dunking of chocolate…but they do have the white threads. After trying it…I have to agree that chocolate ice cream does taste amazing in the center of the cookies!
Superbowl Snack Served With Milk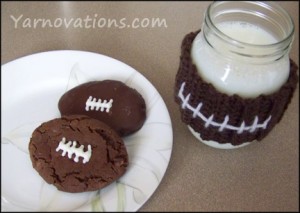 Cookies and milk are a great combo. So we recommend that you serve this superbowl snack with a tall mason jar of milk wrapped in a crocheted football cozy! You are getting into the spirit of the game, right? You need football decorations. You can crochet these and reuse them year after year…all season long!
The crocheted football cozy is a free pattern. You can learn more about it on the Party Mix Recipe and Crochet Football Jar Cozy post we wrote about last fall.
Go team!