Hard Hat Mining Set – A Blast to Play With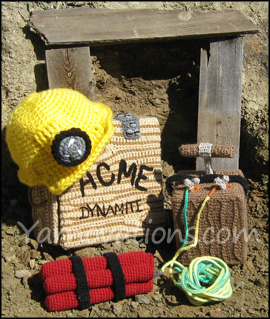 The hard hat and mining set is the perfect toy to create an explosion. Crochet fire on a single stick of dynamite and throw it in a hole for a little kapow. Or set off a whole stack of dynamite with a blasting box to create a BIG BANG!
Take your imagination deep within the earth building mines to reach diamonds, gold, gems and other precious metals. Or blast through layers of rock quarrying granite and other beautiful stone.
The hard hat will keep you safe as you blast your way to adventure. Stash your dynamite in the wood crate  and bring it and the blasting box along for the big jobs.
Hard Hat and Mining Set – Fun for All the Kids
This is one hard hat and mining set you're gonna love to crochet because this one pattern will work for all the kids (baby to adult women)!
The hard hat pattern is One Size Fits All because there's an adjustable strap inside (just like real hard hats). Simply make the strap tighter (with use of a button) and it will fit anybody's head (baby, toddler, child, tween, teen, adult women). Add the light, and your projects are immediately illuminated.
The dynamite is a breeze to whip up. Make a couple sticks to carry in your pocket or crochet a bunch and strap them together for bigger jobs. This pattern comes with instructions to make a wick for a single stick or blasting cap and wire to attach a bunch of dynamite to a blasting box.
The blasting box will help you get the big jobs done faster. The "plunger handle" really moves! You can pull up and down on the handle to simulate a big blast! The sides of the box are crocheted with a wavy pattern to simulate wood grain. There's a strap on top so you can carry the box to your blast sight. Instructions for the wire, twistable wing nuts and blasting cap are also included.
The wood dynamite crate will help store your dynamite when you're heading to the job site. This pattern calls for two shades of brown to really get an authentic wood grain look. Crochet a couple of hinges and some lettering to bring the box to life. Create some cord handles and you can carry your explosives anywhere.
Hard Hat and Mining Set – Available in the Store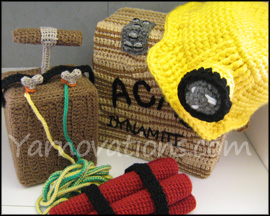 The beauty of the hard hat and mining set is that you can start playing right away. Crochet the hard hart first and you'll instantly feel like a miner. With just a single stick of dynamite you can immediately begin to blow things up. Add the blasting box and wood crate when time allows or when your stack of dynamite gets to be unmanageable!
The crochet pattern for the hard hat and mining set is available now in the store. You'll get a bang out of this pattern!