Cell Phone External Battery Pack Bag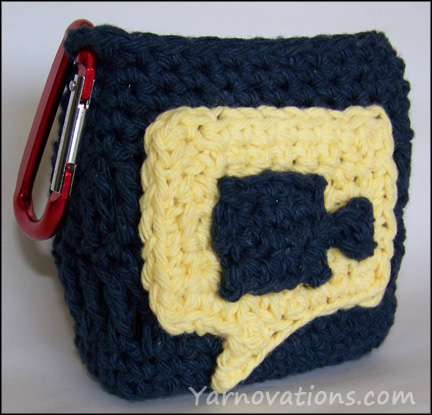 Recording video on your phone? You'll need a cell phone external battery pack because video will drain your power fast. We've created a great little bag to stow your battery that can clip to your belt loop, backpack or a tripod.
We've dressed up the bag with a "Hangout" appliqué that doubles as a business card holder. "Hangout's" are a free video conferencing feature of Google Plus. As of today you can video conference with up to 10 people at once. Pretty sweet!
Cell Phone External Battery Pack Bag  – Crochet Pattern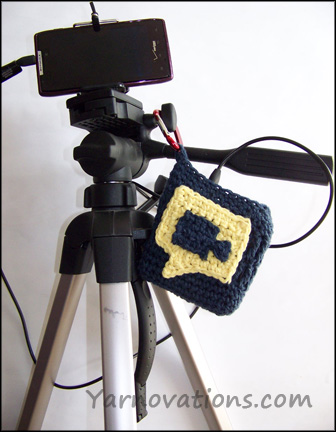 I designed this external battery pack bag for my husband to take on business trips where he might do a lot of recording on his cell phone. I didn't have black yarn…so used blue for the bag. Probably not the best choice since many people associate blue with Facebook!
Skill Level: Easy
Stitches Used: Chain, Slip Stitch, Single Crochet, Half Double Crochet, Double Crochet, Treble Crochet
Techniques Used: Crochet in Rows and in the Round. Increase and Decrease
Size: 3 ½" wide x 1" deep x 4" tall
Get the Pattern
The external battery pack bag pattern is available on the Free Crochet Patterns page or in the Store.