Dishcloth+ Series: July's Fan and V Stitch Dishcloth and Crochet Apron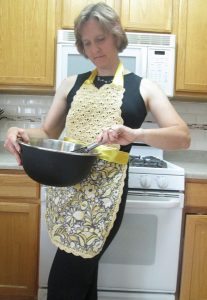 Hey good lookin'. How about crochetin' a dishie and apron for the kitchen?
Whether you're dressed up with pearls or wearing your comfy casual clothes, you'll want to protect your outfit from spills, splatters and drips.
Learn the Fan and V stitch on a fun dishcloth, then put your new skills to work and create a beautiful apron.
The apron is adjustable with a ribbon waist tie and D rings at the neck strap.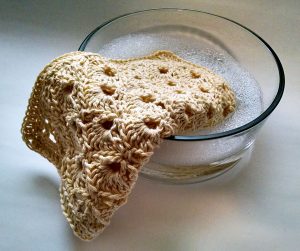 Don't want a full apron with bib top? Follow the instructions to make a cloth apron with a simple crochet edging that will cover you from the waist down.
The dishcloth and apron are crocheted in Fibra Natura Good Earth distributed by Universal Yarn. This cotton linen blend is perfect for going from sink to washing machine and back again.
Available in the Store

The Dishcloth+ Series: Fan and V Stitch Crochet Apron and Dishcloth is now available in the store.