Since the end of October 2012, we've posted a pattern and jar cozy every other Friday. Our plan is to continue this series for a year. That's still our plan, but today's cozy will be a little late.
The cozy will be cute and the recipe will be delicious…but the post will be delayed. I (Dana) am traveling and doing some home renovation projects for my parents. I've been painting and tiling and moving boxes so I haven't been able to whip up the crochet project.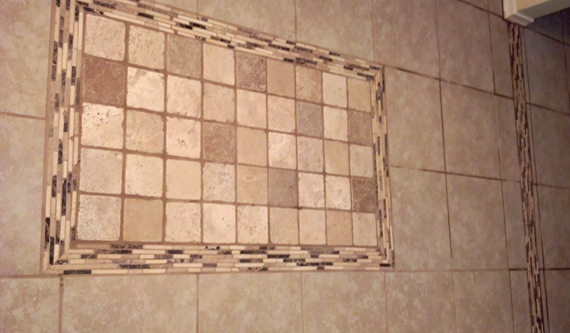 Here is a photo of some of the floor tiling. We put a "picture frame" in the center of the floor of the master bathroom and decorative tile in doorways. There's more tile in the hallway, closets and vanity area. I don't want to see tile for at least 2 years now that this project is done!
I need a bumpersticker that says: "I'd rather be crocheting".