Review: Yashi (raffia yarn) by Universal Yarn
We used Yashi (raffia yarn) by Universal Yarn in our Twins Face Off design challenge sponsored by Ewe and Me: A Yarn Boutique. Here are our thoughts about the yarn.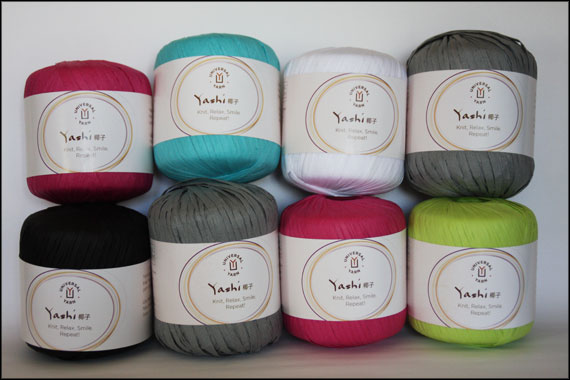 It is unique! We haven't worked with anything like this. We love products that are new and different. This is definitely one to try.
Yarn Features:
According to the Universal website: "Yashi is a soft, papery raffia yarn especially well-suited for crafts and accessories."
Worsted Weight: 99 yards/40 grams
100% Raffia: Hand wash, Dry Flat
Yashi Pros:
Fun Colors
Can be unwrapped to make a wide ribbon like yarn
Surprisingly Durable – Didn't tear even after frogging several times
Color Fast – doesn't bleed in cold or hot water (we tried)
Strong (even if swatch is soaked in water)
Long Run Out – Most raffia is made of short strands. Love that this is 99 continuous yards!
Soft when compared to other raffia
Yashi Cons:
Stiff – Can see kinks in stitches
Frogged yarn will be thinner/crunched
No flux, difficult to create good stitch definition with stitches of various heights
Coarse when compared to traditional yarns.
Yashi raffia yarn is fun for a variety of projects. It's awesome for crafting and creates a unique look for crochet. Here are some patterns using Yashi: