Review: "The Crocheter's Skill-Building Workshop"
by Dora Ohrenstein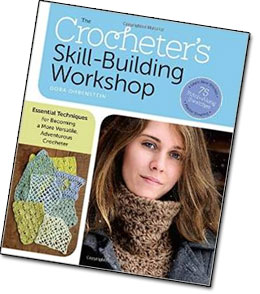 "A beautiful, stunning and informative resource." You can quote me, Dana, on that!
I read a review of "The Crocheter's Skill-Building Workshop" on Crochetville and wondered if this book was all it was touted to be. And, yeah. It's good. Really good.
If ever I thought about writing down all that I know and tricks I think every crocheter needs to know, this is the book I would have envisioned writing. But it wouldn't have been half as good. Dora Ohrenstein nailed it with this book.
Have you ever wondered why some people's crochet projects looks sloppy while other people's work looks great? The difference can be a matter of technique, of knowing and putting into practice some basic skills. This book will transform your crochet.
The Crocheter's Skill-Building Workshop Pros
Step-by-step instructions & photos of basic techniques for beginners
Advice (and photos) for advanced crocheters
In depth discussion (and charts) on how to write and modify patterns
Photos with amazing clarity
75 swatch patterns (photos and charts) that illustrate various techniques
Charts with two colors to help distinguish odd and even rows.
256 pages with nice thick glossy paper that's durable and provides crisp clear images
Great writing style – it feels like you're having a converstaion with an instructor that's professional yet approachable.
My three favorite sections are:
Pages 53-55  Alternatives to Standard Turning Chains
I hate how wimpy the turning chain looks as a stitch (so I often don't count it as a st). Dora gives several great alternatives (with step-by-step photos which are very much appreciated).
Pages 194-195  Tapestry Crochet
I've done a little bit of tapestry crochet, but haven't fallen in love with it. Her tip on crocheting backwards (and again, love the step-by-step photos!) makes me want to give it another try.
Pages 136-139 Internal Shaping
I liked all of Chapter 7 "Advanced Shaping" but loved the highlighted chart that addressed building a pattern internally on page 137.
The Crocheter's Skill-Building Workshop Cons
Instructions on designing 3D items seemed light. There are patterns for a hat and bag, but the book didn't address things like amigurumi.
My tablet had trouble with the electronic version (which I checked out from the library). It skipped from chapter to chapter instead of page to page. In the end I'm thankful that my tablet had problems because the printed version is stunningly beautiful.
Not really a con, but something I found odd was the placement of the section on Pattern Reading. It seems like it would have been better placed at the front of the book rather than the back, since there were patterns sprinkled throughout the book.
The only thing I thought missing was a technique called an invisible join (which I've pinned on pinterest). Page 102 does give 4 ways to start and end a round.
I was pleasantly surprised by how much I enjoyed reading The Crocheter's Skill-Building Workshop. Not because I think I know it all, cause I don't. I guess I thought it would be a long winded detailed discussion on every miniscule crochet technique ever known to man. Instead, the chapters were concise yet thorough and were beautifully illustrated with fun patterns and beautiful photos. This is definitely one to keep on the shelf as a reference along side your stitch dictionaries.