Review: Red Heart Soft Yarn and Red Heart Boutique Sashay Sequins
We used two different yarns from Red Heart for the Twins Face Off Shrug
Design Challenge this month. We thought we'd share with you our thoughts on both Soft and Boutique Sashay Sequins.
Review: Red Heart Soft Yarn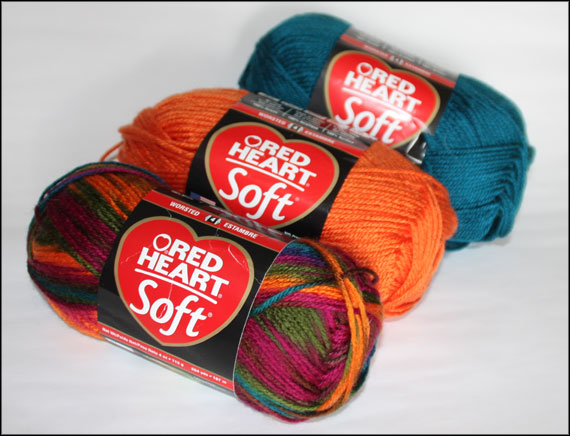 We loved working with Red Heart Soft…we'll just say that right off the bat. It deserves it's name because it really is soft. It glides through your fingers and across the hook so smooth you'd think it was silk. Coarser yarn can chafe the tension finger, but this soft yarn does not irritate the skin. It also has really nice drape which is surprising for a worsted weight yarn. That makes it great for garments like scarves and sweaters, or in this case, shrugs. Not only is it gentle on the tension finger, as a finished project, it also feels soft and smooth.
Red Heart Soft also has a shiny sheen. That makes the finish item vibrant. The color is stronger and richer as a result.
This yarn can split a bit when working with it. Not too much, but enough to comment on it. If you run into this problem, you might want to try using an inline hook like Susan Bates which will minimize the snagging.
Red Heart Soft Yarn is delightful to work with. We don't use it as often as we'd like because the color selection is limited. As of today, there isn't a yellow in the mix. You don't notice how often you use yellow until it's not available! The colors that are available, however, are rich and vibrant. We love them all!
Red Heart Soft Pros:
Soft and comfortable to work with
Beautiful drape
Nice shiney sheen making colors vibrant
Red Heart Soft Cons:
Splits a little bit
Limited color selection
Review: Red Heart Boutique Sashay Sequins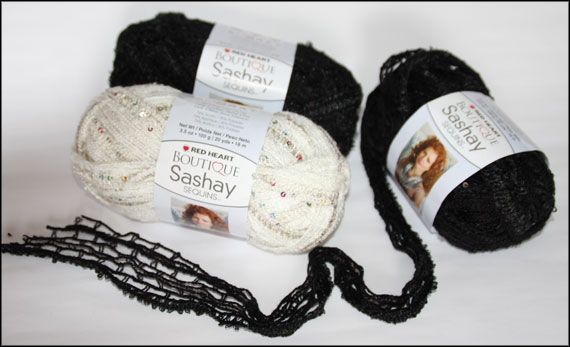 Though lace and ruffles aren't our usual style, we have to give two thumbs up to Red Heart Boutique Sashay Sequins for being a great yarn to work with. Working with lace does take a little extra time because you have to open it up and spread out the lace to find your next loop. Once we slowed down and realized this wasn't a timed contest, we were able to enjoy the process of working with the lace. The Boutique Sashay Sequins opens easy and stays open so you can find the loops you want to work with. It really was a delight to incorporate into our shrugs.
Of course, the Boutique Sashay Sequins is probably most notable for it's drape. It makes a beautiful ruffle. The lace part of the yarn is very holey, which allows for the crocheter to skip holes to create a more curly ruffle. Likewise, you can create more or less of a ruffle by crocheting more or less rounds with the lace. We like that the fabric gives us some control over how big the ruffles will be.
We crocheted the Sashay right into the project with the Red Heart Soft yarn. Imagine doing a single or double crochet with the Soft yarn. To incorporate the Sashay, we simply inserted the hook into the Sashay before inserting the hook in the next stitch of the project. Finish the single or double crochet with the Soft yarn and the Sashay is locked in.
The only thing we didn't like about working with Boutique Sashay Sequins was so minimal it's hardly worth mentioning. But for those who are curious, we did find it a little annoying that the yarn twists a bit as it comes off the skein. So you'll have to stop and rotate the skein to get rid of the twist. But really, that's to be expected on this type of yarn. See, we shouldn't have even mentioned it!
Red Heart Boutique Sashay Sequins Pros:
Makes beautiful ruffles
Easy to open
Lots of options for making small or large ruffles
It has sequins…always fun in a yarn!
Red Heart Boutique Sashay Sequins Cons:
Twists as it comes off the skein
So, as you may have noticed, the pros totally outweight the cons! We enjoyed working with both yarns and know you will too.