Yarn Review: Landscapes by Lion Brand
We used Landscapes yarn in our Lion Brand Sponsored Twins Face Off design challenge. Here are our thoughts about the yarn.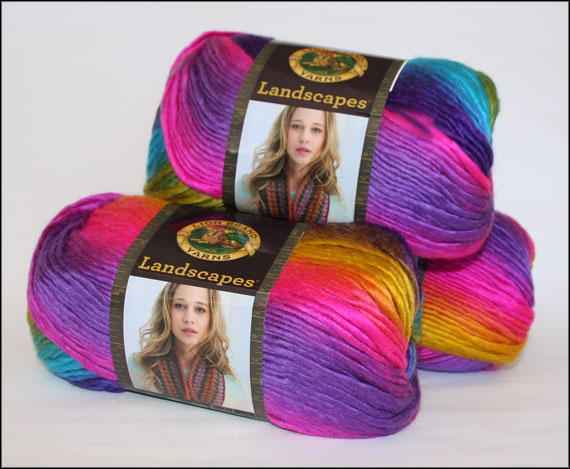 We love this yarn and yet were challenged by it as well. More specifically, we found the color challenging since we rarely use self striping yarn. But really, using a yarn that changes colors automatically kind of takes care of one design element. No need to worry about when to use a specific color!
Yarn Features:
According to Lion Brand website: "Landscapes is a premium acrylic, single plied roving yarn that has a satiny feel and a richly colored palette."
Worsted Weight: 3.50 oz./100 g (147 yd/134 m)
Self Striping – Based on the Bohemian Handbag pattern, the color lasted about 20 dc's and then took another 20 dc's to fully transition into the next color.
Lion Brand Landscapes Pros:
Soft and smooth to work with
Glides easily over the hook and hand
Soft finished projects
Self Striping adds lots of color with a single skein
Vibrant color with smooth color transitions
Shiny sheen making finished projects rich looking
Loose roving style yarn is fun to crochet
7 fun color combos to choose from (both masculine and feminine)
Lion Brand Landscapes Cons:
Difficult to rip out work because roving is not tightly twisted which means the strands can bind together (for best results, frog slowly)
Yarn is soft and can snag easily so you'll want to line projects like purses
Yarn splits a little bit. An inline hook may work better for this type of yarn
If you've never worked with roving style yarn, give it a try. It is really fun to crochet with and we thoroughly enjoyed working with Landscapes yarn. Once we got over our own hang ups with not being able to control the color changes (I know, control issues), we found this yarn a delight to work with.
Here are some patterns that use Landscapes yarn by Lion Brand.