Review: "Crochet Stitch Directory" by Sarah Hazell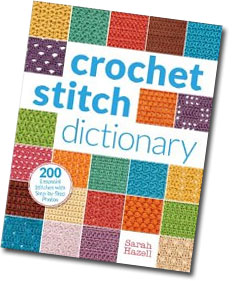 Love this book. I, Dana, just have to say that right up front. Most of the crochet dictionaries in my collection (I only have a few, mind you) leave me uninspired. But not Crochet Stitch Dictionary. This book is the first one I pull out when I'm looking to create something with texture like a baby blanket.
10 Things I Love about "Crochet Stitch Dictionary"
200 Stitches. My hat's off to Sarah Hazell for fitting 200 designs into a 192 page book.
There are no patterns, just swatches. I prefer my dictionaries to be just that…dictionaries. I don't want valuable pages wasted with random patterns I'm never going to crochet. Thankfully this book is packed with swatches.
There are step-by-step photos. For stitches that have multiple steps, there are photos! Very helpful.
There are charts for every design. And they are color coded making them easier to read as you move from one row to the next.
Colorful yarns are used throughout. The swatches are shown in lots of colors. I like that they aren't all just crocheted in white yarn. The book feels cheerful as you flip from page to page.
Basic stitches are included. I like that standard stitches are included like single and double, and also Star, V and Chevron, etc.
Lots of advanced stitches are included. There are lots of patterns with cluster stitches, post work and crossed stitches.
Packed full of new stitches. Maybe it's just me but I've never heard of the Berry Stitch or Granule. But I love them now that I see them in the book! I so want to make something with the unique stitches I've only seen in this book.
Lots of swatches using multiple colors, beads and loop stitch are included. I love that the swatches address other items that change the way a swatch looks such as beads, loops and color changes.
Tunisian Crochet is not included. Tunisian is such a different technique, I'm glad it's not covered in this book. When I want to work Tunisian, I'd rather pull out a book that deals only with that.
So, although I adore this book, it's not perfect. New crocheters will probably find it challenging because it's condensed. Although there are step-by-step photos, there aren't a ton. And if a new crocheter tries an advanced stitch, they'll be frustrated. I haven't kept track, but I think I've seen a typo or two in some of the written directions. But with the charts being right next to the directions, that takes care of any confusion.
The book doesn't have any edging, which I find a pro, while others may feel a con. I actually designed a baby blanket using two different stitches from the book, one stitch as the center panel and another I modified and used as edging.
As I said, this is my #1 go to stitch dictionary. If you are looking to buy just one, this has my vote (so far).