Review: Cafe Press Water Bottle
When Deborah and I opened our Cafe Press shop, we selected items that we would want to use. I was excited to see that a 1 liter metal water bottle was an option for plastering fun crochet and knitting sayings on, cause I drink a lot of water. I love it!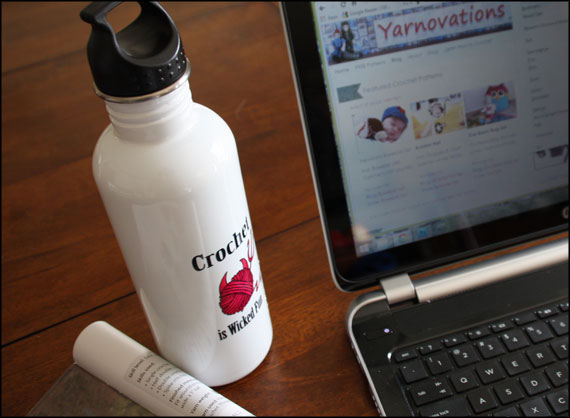 I bring this bottle to my office while I work on crochet patterns. Here's my review of my new Cafe Press Water Bottle:
Pro:
Holds 1 liter
Has gasket to prevent leaks
Has a hole in lid should I want to tie a string through the lid and around the neck of the bottle
Has easy grip bumps on the lid for easy opening
Wide mouth for putting ice cubes in
Stainless steel, no toxins like BPA
Cons:
Hand wash only
Bottle takes on the temperature of the liquid inside
Can't tip head back too fast when drinking directly from it because water pours out quickly
My husband and I joke about how I drink. When most people ask for a sip, they are asking for a taste of something. I use the word a bit more loosely. I could want a taste, but more likely I want a good healthy drink…one that makes you say "ahhh" at the end.
With this water bottle, I need to tip it back a bit slower than I'm use to. But I think it's worth it. I love the convenience of it. It's the perfect amount of water for short hikes in the park, for taking with me to crochet group or just keeping near me while I work.
Of course, the best part is that it showcases my love of crochet!