Review: Artists & Makers Magazine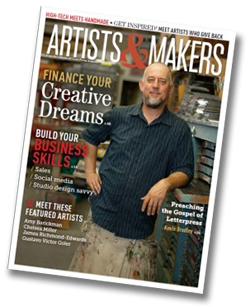 When a friend gave me a copy of Artists & Makers magazine Winter 2015, I was thrilled. I secretly love art but most people don't know it. I rarely go to art shows and I don't read up on anything other than crochet. So this was a treasure. One that I wanted to savor and read while undisturbed. So when I had the house to myself, I fixed myself a drink, settled comfortably on the couch and cracked open the magazine.
It was, in a word, delightful. I received a glimpse into the lives of lots of creative people who shared both their successes and struggles. There were book reviews, tips for the business side of art and snapshots of a wide variety of art forms from letterpress to painting to woodworking, etc. There was even a small story about a yarn company!
My favorite section was "Essentials", a review of products, supplies or organizational tools that artists might like. This 2 page spread made me laugh out loud! It reminded me of the Seinfeld episodes where Elaine works for J Peterman and writes catalog copy that is more story than actual description/review of products. After reading Essentials, I was tempted to buy one of everything. Ok, I exaggerate. I wasn't tempted to buy anything, but this section alone makes the magazine a must read!
The quality of the magazine is top notch. It has a nice thick cover with beautiful glossy layouts. The artists highlighted are diverse in textiles and in personalities which I really appreciated. There were a lot of practical tips that all artists can use regardless of art form. When I finished reading the magazine, I was encouraged and my spirit uplifted. I was energized.
I would recommend this magazine to creative people who are passionate about their art and have an entrepreneurial spirit. Though it may be geared more for people who want to make a full or part time living with art, anyone who sees arts and/or crafts as a form of expression will enjoy this magazine.