Published in Love of Crochet Magazine, Summer 2014
Pattern 1: Mulberry Stitch Sampler – page 51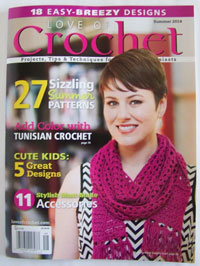 The cover girl is wearing one of two designs I (Dana) have featured in "Love of Crochet" magazine, Summer 2014. I am thrilled!
The scarf is named "Mulberry Stitch Sampler" because it features several techniques like vertical and horizontal cables, star stitch and the shell stitch.
This was crocheted in Milky Whey by Kollage Yarns. This yarn is super soft, making it a dream to wear. It blocks well and has delightful drape.
We love extra long scarves…and as you can see, this one has been draped around the neck of this slender model several times.
Pattern 2: Victorian Lace Card Holder – page 22
I needed a gift for a friend who loves everything Victorian. So I created this Victorian Lace gift card holder for her, which she raved over, then promptly started using for her business cards.
This design was crocheted with two strands of crochet thread held together allowing the use of a D hook instead of a steel hook.
Color is added to the floral button with colored chalk.