Published in Love of Crochet – Holiday Issue 2013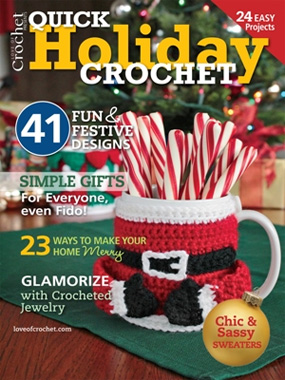 Once again we've got some cute crochet patterns published in the Holiday issue of Love of Crochet available in stores October 14, 2013. We are so thrilled to bring you these fun designs.
We've created some beautiful patterns that can be crocheted as gifts for him, for her and for dog lovers!
While all the patterns are easy, the his and hers cowl were specifically designed as beginner projects. With just a little tweak, the masculine gaitor designed for him transforms into a beautiful cowl for her.
If you want to pamper your pet and crochet something for those who love them, then there are a few patterns just for you.
His and Hers Cowls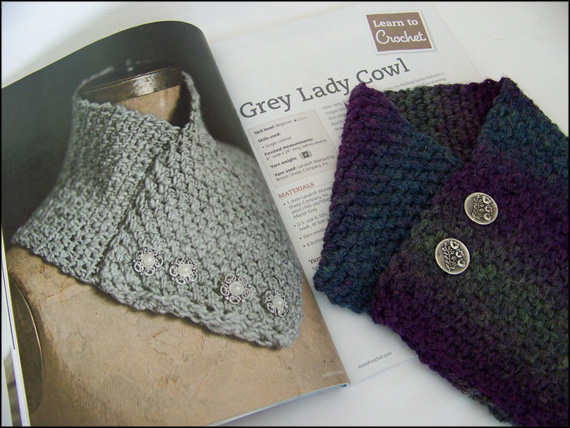 We've created a simple cowl design for him and her that's perfect for beginners. Check out the "Learn to Crochet" section for the "Ice Fishing Gaitor" and the "Grey Lady Cowl".
We specifically wanted to make a pattern that a beginner could use for masculine and feminine projects. One that would be easily modified so that a new crocheter can get two very different looking garments from one simple design. Reading a pattern can be stressful, particularly for a new crocheter. We're alleviating the stress this holiday season with this His and Hers design.
Pictured with the "Grey Lady Cowl" is an alternative yarn: Red Heart Boutique.
Pet Lovers Trio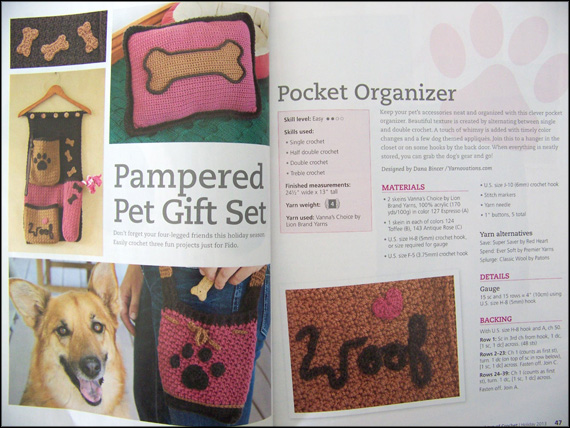 Update 5/15/2014: These patterns are now available in the store as a set or individually!
Dogs Days Trio  –  Dog Bone Pillow  –  Paw Purse  –  Pocket Organizer
This set was born out of practicality and my (Dana) love for my dog, Joy – a white lab. The dog toys, treats and medicines were spilling out of one of my kitchen cabinets and it was driving me crazy. So, I created a pocket organizer that hangs by my back door.
Once I started crocheting dog stuff, well, I couldn't stop. Thus the treat purse and dog bone pillow!
I chose pink to compliment the brown on the set because the dog and I both love pink. (Ok, she's probably color blind, but it makes me happy.)
Choose Your Color
The great thing about all five of these projects is that they would look great in any color you or the guys in your life prefer. If, for example, you're making a cowl for a boy…when they pick camo colors, the gaitor will look great! Or if they want team colors, it'll look even better!